2005 Chrysler PT Cruiser GT Convertible used car
It's a new year and that might mean it's time for a new or previously loved vehicle. As the weekend approaches you are ready to do some research, right? Don't worry, we have you covered.
With over 3 million used-car listings, The Car Connection can help you find the perfect used vehicle. You can sort search results with easy-to-use sliders which will lead you directly to the used car you've been dreaming of. Or maybe just that used vehicle that you really need. Either way, we have the tools.
This week we've sifted through thousands of used car listings to bring you these four fine pieces of American metal. Will one of them be your next vehicle? That's for you to decide. Don't worry, we know budgets may be a bit tight after the holiday season, so we've found some truly good deals for you.
Before we show you these four amazing finds, we wanted to let you know that we'll happily help you find the vehicle of your dreams, or just give you free advice on new vehicles. Simply drop us a tweet on Twitter, or post on our wall over on Facebook. We'll include your question in our weekly scan of the listings, and of course provide you the feedback and help you're seeking.
So without further ado, here are this week's top used car finds:
2005 Chrysler PT Cruiser GT Convertible used car
2005 Chrysler PT Cruiser GT Convertible
67,220 miles; $7,980
Seattle, Washington
It may be cold outside, but isn't that the perfect time to buy a used convertible? It's easier to negotiate a convertible when no one really wants to be driving with the top down than when the sun is shining and it's 80 degrees outside. Take our word for it. This particular car is done in a nice inferno red crystal pearl paint color with dark slate gray interior. It's listed for about $1,300 less than the average PT Cruiser Convertible. Leather, less than 70,000 miles, and the dealer says it's in excellent condition. Plus, it has heated seats, so you know, when you drive with the top down your butt will still be warm.  (See more used PT Cruisers).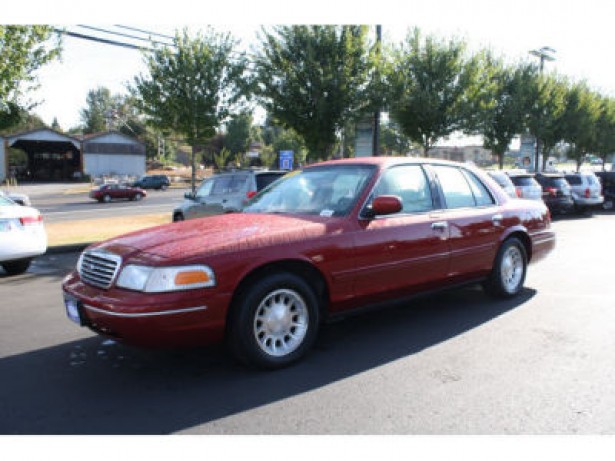 1999 Ford Crown Victoria used car
97,397 miles; $4,500
Sandy, Oregon
The high points? It features a reliable 4.6-liter V-8 engine and an automatic transmission. It's been for sale for over 120 days, and the price continues to drop, so there might be a little wiggle room on the price. If nothing else, it's already a steal. This particular car is cheap enough to donk it out, or you could spring for the early-bird special for your canasta club at Denny's. Did we mention half the people on the road will think you're an undercover cop? That's simply a bonus right there. (See more used Ford Crown Victorias).
2006 Chrysler Town & Country used car
68,286 miles; $8,888
Milwaukie, Oregon
Is your family growing, or maybe you just need to haul a ton of stuff while still getting reasonable gas mileage. You know, minivans are a stylish option for these scenarios. This shining example has less than 70,000 miles on it, dual sliding doors, and fuel economy ratings of 19 mpg in the city and 26 mpg on the highway. It also features fake wood trim and aftermarket alloy wheels. It's been for sale for 100 days, so price negotiations may prove fruitful. Our advice? Remember that the gray cloth interior will stain easily as you hit the McDonald's drive through with the kids. (See more used Town & Country near you).
2006 GMC Sierra 1500 used car
44,983 miles; $15,995
Seattle, Washington
We were going to try and keep the prices under $10k, but this Sierra's just too sweet of a deal to pass up. It has lower than average mileage with only 45,000 on the odometer, and its priced to move. Seriously, it's about $12,000 less than the average 2006 GMC Sierra. Finished in fire engine red with a dark pewter interior, this isn't a truck that will blend in. It has the tow package so it's ready to haul, and we even notice an aftermarket radio head unit installed in the dashboard. Don't worry about buying running boards, it already has em. Same goes for a tonneau cover. Though, if we purchased this beauty we'd rip off that gaudy chrome tailpipe finisher.
As with any used car purchase, we recommend you have a mechanic do a pre-purchase inspection on any of these before writing a check. We also suggest you ask the dealer to show you the CarFax report, just so you actually know the history behind each of these beauties. (See more used GMC Sierras).