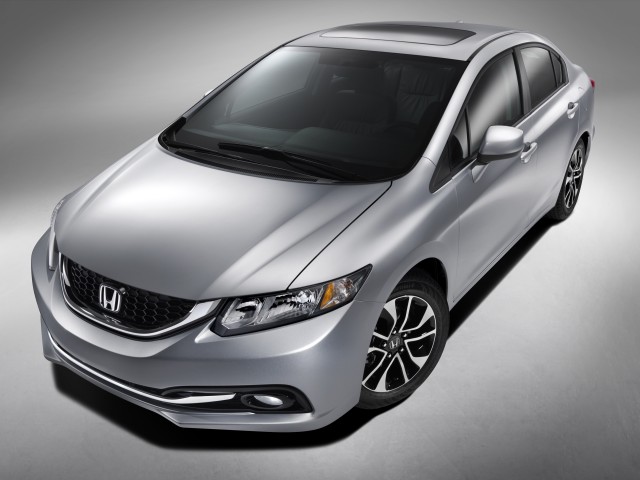 2013 Honda Civic
In advance of its debut at the
Los Angeles Auto Show
later this month, Honda has released a couple of photos that give a first glimpse of the changes to be made to the Civic compact sedan lineup for 2013.
These initial pictures—only a couple of exterior shots—show that the new Civic lineup, quite noticeably, adopts some family details from the recently introduced 2013 Honda Accord. The front-end appearance clearly follows the Accord's face, with a new 'open-mouth' lower bumper, horizontal chrome accent, and black honeycomb mesh grille, plus integrated fog lamps for upper trims and new clear-lens cornering lights.
What makes the most difference, at least according to these initial pictures, is the new 'chiseled' look to the front corners and the lower front airdam, and the more dramatically sculpted hood.
2013 Honda Civic
In back, there's a new rear bumper design and new trunk lid, with a long horizontal chrome bar. Taillights now carry into the trunk face as well, and a lower diffuser panel is blacked out and shares the black honeycomb look.
Although Honda just released the current version of the Civic for 2011, the automaker has rushed this styling refresh—including many other improvements—to market, and has admitted misgauging the market during the time leading up to the latest Civic's U.S. introduction.
Honda says that the 2013 Civic will "encompass a host of safety, feature, comfort, chassis and interior styling enhancements that will further define the top-selling Civic as the best car in the compact class."
We anticipate that there will be substantial changes inside, too, including more soft-touch surfaces and a sportier treatment to go along with the Accord-influenced exterior cues.
The revised 2013 Honda Civic lineup will go on sale November 29—the same day that it officially bows at the LA show.