Hyundai is conducting a voluntary safety recall of certain 2012-2013 Sonata passenger cars due to a problem with side curtain airbags.
A notice on the National Highway Traffic Safety Administration (NHTSA) site lists the number of vehicles potentially affected in the U.S. at 22,512. An additional 58 may be affected in Puerto Rico. Affected vehicles were built from January 24, 2012 through June 21, 2012.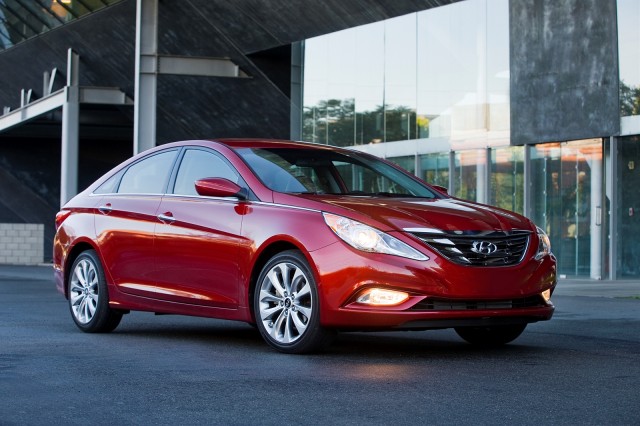 2012 Hyundai Sonata
The problem
At issue is the fact that the side curtain airbag may inflate without deployment. The cause has been identified as an error during manufacturing.
Documentation from Hyundai (PDF) describes the problem as water intrusion that resulted in a fractured closure cap, which in turn allowed one airbag to detonate in a vehicle that was unoccupied and had not been involved in an accident.
As of July 20, 2012, Hyundai said it had received 16 reports of this condition, but is not aware of any accidents as a result of the side curtain airbag inflator leak condition.
2012 Hyundai Sonata
What Hyundai will do
Hyundai will notify owners of the vehicles involved in the safety recall, instructing them to return their vehicles to their Hyundai dealers, who will replace the affected side curtain airbags at no charge. The Hyundai safety recall campaign is expected to begin during August 2012.
In the meantime, owners of affected 2012-2013 Hyundai Sonata passenger cars with any questions or concerns may contact Hyundai at 1-800-633-5151.  Reference the Hyundai safety recall campaign number 106.
Alternatively, owners of vehicles involved in the campaign may contact the NHTSA's Vehicle Safety Hotline at 1-888-327-4236 or go to http://www.safercar.gov.  Reference the NHTSA campaign ID No. 12V352000.