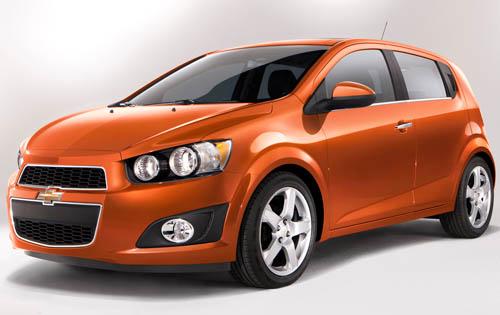 2012 Chevrolet Sonic
Smaller vehicles, chosen wisely, can be more appealing than larger ones.
That's a message that we've delivered quite a bit over the past several years, in reviews of some excellent new small cars. But now we have some numbers to confirm that trend—from the latest J.D. Power and Associates 2012 U.S. Automotive Performance, Execution and Layout (APEAL) Study, which was released today.
If you've browsed our reviews, many of the top-rated smaller vehicles also earn top overall ratings here at The Car Connection. Among the top-rated small cars in JD Power's rankings are the Chevrolet Sonic, Chevrolet Volt, and MINI Coupe/Roadster, with runners-up including the Fiat 500, Ford Fiesta, Volkswagen Golf, Honda CR-Z, Volkswagen GTI, and MINI Cooper. The BMW 3-Series was the highest-ranked 'entry premium car,' followed by the BMW 1-Series and Audi A4 and A5. Among what Power classifies as trucks or Multi-Activity Vehicles, the MINI Countryman, Kia Soul, and Land Rover Range Rover Evoque placed at the top, with the VW Tiguan, Kia Sportage, Toyota Prius V, BMW X3, and Audi Q5 as runners-up.
2012 Chevrolet Volt
It's also worth noting that the innovative 2012 Chevrolet Volt, a standout green car, earned the best rating in the overall 'compact car' category.
According to study results, more than a quarter of new-car buyers who replaced a vehicle downsized, while only 13 percent upsized. And based on an upward trend in APEAL scores, which measures how gratifying a new vehicle is to own and drive, Power notes that many households are replacing their vehicles with small cars that actually have more appeal.
By nameplate, it's no surprise that the top of the APEAL ratings were dominated by premium and luxury brands. Porsche, Jaguar, BMW, Audi, and Mercedes-Benz took the top five spots, with Land Rover and Lexus close behind.
By nameplate, Volkswagen was the top-rated full-line mainstream brand, followed by Ford and Chrysler, which were all rated above the industry average. MINI also rated above VW. Meanwhile, Suzuki placed last, with a low 745 on Power's 1,000-point scale, with only Mitsubishi and Smart slightly ahead.
Based on the results it sees in conducting the APEAL survey, it offers the following four tips to new-car shoppers:
Have realistic expectations about the fuel economy of your vehicle
Know the type of fuel the vehicle requires (premium, for instance), and budget for it
Ask the salesperson to demonstrate all the audio/entertainment/navigation feature of the vehicle before you buy
Try to look beyond exterior design (which Power cites as the highest-scoring category in APEAL)
The study results are based on 74,000 responses, after 90 days of ownership, from those who purchased a new 2012-model vehicle between February and May of this year.
See the video below for some executive comments. And go to JDPower.com to see the full results and the full list of top-rated vehicles.