2012 Dodge Journey
Pricing, financing, warranties, insurance--it's one hurdle after another to make it through the car shopping experience without paying a dime more than you must.
Sometimes, it's not the dealer or the bank that costs you extra money. It's you. By ordering optional features that don't add much to the driving experience--or worse, interfere with it--and don't hold their value over time, many car shoppers end up with a car more expensive than it should be, one that depreciates even more quickly the minute they sign the paperwork and leave the dealer lot. That's money that could go directly to paying off that new car, truck, or crossover sooner.
Wondering if you're spending too much? You might be, if you've ticked the boxes for these unnecessary features:
All-wheel drive--if you don't really need it.
Some drivers in northern-tier states with regular sloppy weather and hilly unpaved roads will be well-served with all-wheel drive or four-wheel drive, which
can distribute power more evenly
when traction is dicey. Still, each year, hundreds of thousands of shoppers who live in the south and the southwest ante up for those heavy, complex add-ons that consume more gas and more cash, for little to no added measure of utility or safety. In almost all cases, a front-drive vehicle with good mud-and-snow tires will do the trick.
Siri becomes voice-activated ignition key
Expensive navigation systems. Technology is driving down the price of GPS in cars, but many drivers are already turning toward even less expensive solutions. Phone-based navigation is often cheaper; some safety-and-security systems like GM's OnStar and Ford's SYNC come with serviceable, turn-by-turn navigation that eliminates pricey hard-drive or disc-based databases and big LCD screens. Meanwhile, Apple's plan to integrate Siri voice controls in cars threatens to turn the whole in-car navigation market into a free-for-all, literally. Some in-house nav systems are inexpensive, like the latest ones from GM and Nissan. Before you spend a thousand and upward on a bundled nav system, consider more practical options--and what the future may hold.
MyLincoln Touch - 2011 Lincoln MKX
CD players, especially changers. Compact discs are on their way out of cars, and most manufacturers have already deleted CD changers from their options lists. The single-slot CD or DVD player is still widespread as a base sound system, or as a premium system when it's coupled with a navigation system, but if you're streaming audio via Bluetooth or a USB port, there's no need to spend more on another media reader.
Sirius Backseat TV in Chrysler 300C SRT8
DVD or streaming-TV entertainment systems. Keeping kids entertained and quiet is key on long car trips, and for the past decade, DVD entertainment systems have ruled the second- and third-row seats of minivans and crossovers everywhere. But there's a revolution already in hand that makes built-in DVDs and LCD screens seem so 2005--tablet computing. A Galaxy or iPad tablet is cheaper, portable, easier to manage and easier for kids to handle. They're relatively inexpensive, new or used, to replace systems that can cost three or four times as much, and can be updated with the newest software. The best part: Web connectivity through 3G that those hardwired systems can't match.
2007 Mercedes-Benz GL450
Leather upholstery. The new Lexus ES is more luxurious than ever, but inside its cozy cabin of base models you won't find leather upholstery, unless it's ordered off the options list. The same is true for the Mercedes-Benz GLK-Class, ML-Class, and GL-Class SUVs, and many entry-level German sport sedans. The Volkswagen Passat doesn't even offer leather on five-cylinder or diesel models, though prices can pass $30,000. What's at work? Better quality synthetic materials that look as good as leather but wear better, according to manufacturers. It's less expensive to manufacture, too, which means the "leatherette" that works better than the real thing saves you money--while the real thing is now, more than ever, bundled and packaged along with thousands of dollars' worth of other options you may not want or need. If after all that, you're still only interested in real hides, consider having it done post-dealer, where it can be considerably less pricey.
MyFord Touch made simpler for 2013
Voice command systems--unless you're patient. A plethora of voice-command systems have flooded the market, led by Ford's SYNC and MyFord and MyLincoln Touch, followed by Kia's UVO and to some degree, GM's Intellilink system and the voice controls offered by German automakers. You could spend hours understanding the voice command chain that allows you to access music playlists, program navigation destinations, or set climate controls--or you could simply opt for a trim level of a vehicle that omits those complex, bleeding-edge systems. Of these, Ford's are the most advanced and have the steepest learning curve, and as such, have encountered the most criticism. If you're planning on buying a vehicle equipped with any of these, make sure to spend time before you buy, and after, re-learning how to accomplish basic tasks like choosing radio station presets--a former one-button affair that now can take three or four swipes and strokes and commands, depending on the brand.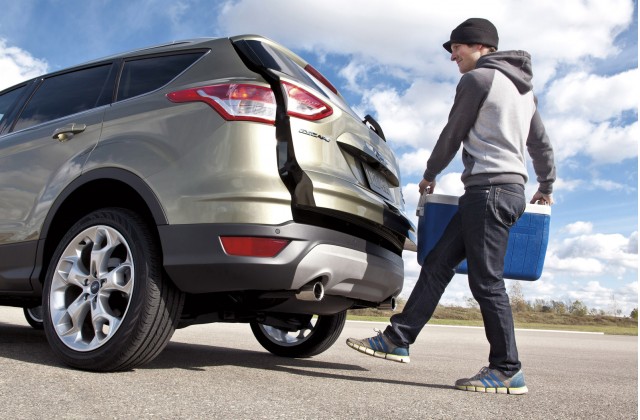 2013 Ford Escape
Power-folding seats--and power-closing doors, trunks, and tailgates. It's a classic first-world problem: how to wrestle with a cart from a warehouse store with kids in tow, while trying to open and configure a large vehicle to truck it all home. More and more vehicles now offer power assistance for everything, not just windows, locks, and mirrors--everything from Chrysler's minivan tailgates to the trunk lid on the BMW 7-Series sedan. Some new crossovers like the 2013 Ford Escape omit a convenience like a power front passenger seat entirely--but offer a power tailgate that opens at the wave of a foot. Some argue, the fewer the power-operated conveniences the better, for maintenance's sake. For your wallet's sake, skipping power-folding third-row and second-row seats, and power-closing doors, trunks, and tailgates, could also save you thousands off the bottom line.
Chevrolet Wi-Fi by Autonet Mobile
In-car Internet service. Here, it's the hard-wired, accessory-option variety that makes no sense in an era of hotspot smartphones and dual USB ports in new vehicles. It's cheaper just to buy a new phone or to sign up for a 3G dongle, than to buy, install, and subscribe to an aftermarket or OEM-accessory system that grafts a permanent 3G networks into a new vehicle.
The 72-month car loan. The last unnecessary feature you can skip promises the biggest savings of all. As it's become more difficult to buy a new car that suits all needs, many shoppers have turned to longer car loans, to lower payments to an acceptable level. It's a trap: interest rates may be historically low, but you'll still end up paying thousands of dollars more on a six-year car loan than you would on the good old traditional 48-month loan. Find a car that suits you and also suits your budget--a budget that includes paying it off in less than four years whenever possible.