2012 Chevrolet Cruze
2012 Chevrolet Cruze – With a 79.99 TCS, the 2012 Chevrolet Cruze compact sedan scored high marks for its solid overall feel, stylish cabin, and well-equipped interior with the roominess of a mid-size, along with high safety ratings, steady and controlled ride and fuel economy in the Eco model that's one of the best of its class. The Car Connection rates the Cruze a bit higher, 8.2 (out of 10), calling the compact "a practical, comfortable, fuel-efficient and a strong value, but it does lack the nimble, tossable feel that some small-car fans appreciate." Prices range from $16,720 to $21,110.
2012 Mazdaspeed3
Enlarge Photo
2012 Mazda Mazdaspeed3 – The high-performance version of the Mazda3, the 2012 Mazdaspeed3, with its 79.13 TCS, was "revered" by automotive reviewers for its precise handling, high-performing engine, higher-responsive steering and sure-footed driving manners, among other attributes. The 2012 Mazda Mazdaspeed3 is included in The Car Connection's review of the 2012 Mazda Mazda3 and has the same overall 8.2 (out of 10) rating. The price of the Mazdaspeed3 starts at $24,000.
2012 Hyundai Elantra
Enlarge Photo
2012 Hyundai Elantra – Abundant features, adequate passenger space, large trunk, high fuel efficiency and comfortable ride are standout characteristics of the 2012 Hyundai Elantra compact sedan, enough to net the small car an 78.87 TCS. Again, The Car Connection found the Elantra to rate a bit higher, ranking it an 8.2 (out of 10) in this review. Summing up the Elantra's appeal, our editors said, "The 2012 Hyundai Elantra has officially left the Civic and Corolla in the dust, thanks to a 40-mpg gas mileage rating, a sleek look, and tremendous value for the money." Prices range from $15,995 to $20,445.
2012 Scion xB
Enlarge Photo
2012 Scion xB – Known for its unique exterior styling that translates to exceptional passenger and cargo room on the inside, the 2012 Scion xB also offers a wide range of features, excellent maneuverability, unobstructed forward visibility and easy-going ride. These result in Scion's 78.23 TCS. Over at The Car Connection, our editors rate the 2012 Scion xB a 7.8 (out of 10), commenting that, "Trendy or odd, the Scion xB jams plenty of space and versatility into its compact footprint." Prices range from $16,300 to $18,110.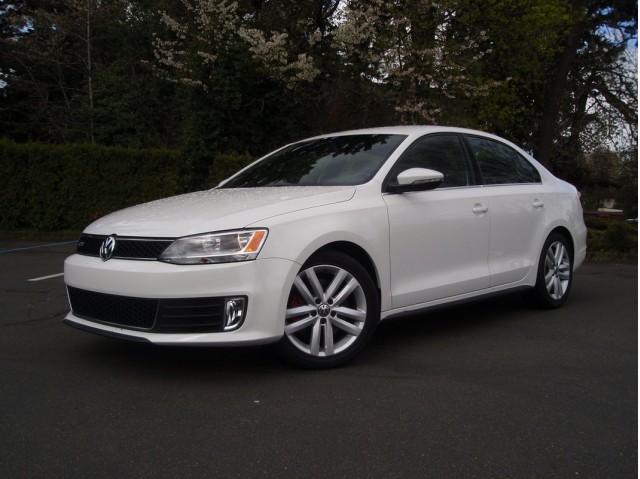 2012 Volkswagen Jetta GLI
Enlarge Photo
2012 Volkswagen Jetta – It's affordable, well equipped and roomy, with a notably spacious rear seat and a large, functional trunk. These attributes, and a few more, result in the 2012 Volkswagen Jetta earning a TCS of 77.5. As for The Car Connection, which gives the 2012 VW Jetta a 7.8 (out of 10) rating, the bottom line is that the 2012 Jetta "delivers a better driving feel and more back-seat room than many other compact sedans." Furthermore, our editors advise buyers to "skip the cost-cutter base versions in favor of the TDI or the GLI for a distinctive choice in the compact class." MSRPs range from $16,495 to $25,595.
2012 Kia Forte
Enlarge Photo
2012 Kia Forte – An airy cabin with good visibility, quality interior materials, and a good number of standard features, including Bluetooth and USB interface help account for the 77.28 TCS afforded the 2012 Kia Forte compact sedan and hatchback. Our review calls out the Forte's elegant, simple styling, cabin space and standard connectivity features and rates it an overall 7.4 (out of 10). Furthermore, The Car Connection editors say that the Forte family of vehicles "manages to feel more eager, comfortable and sophisticated than its sticker price might suggest." Prices range from $15,200 to $19,200, making the 2012 Kia Forte the most affordably-priced of Total Car Score's top cars for college grads.