Ford is conducting a voluntary safety recall of certain 1998 to 2003 model year Ford Windstar minivans over a rust issue that can cause the rear axle to break.
This action by Ford adds Virginia to the larger recall in August 2010 of some 462,750 1998-2003 Windstars in 21 states. The automaker added Utah to the recall list in November 2010. As reported in October 2010, Ford offered a buyout to some owners of 1998-2000 model year Windstars, but that offer expired December 30, 2010.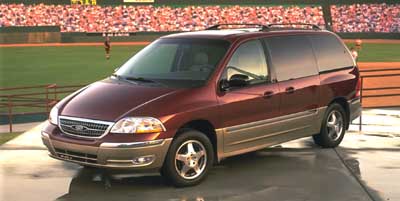 1999 Ford Windstar Wagon SE
A notice on the National Highway Traffic Safety Administration site lists the number of potential affected units in this expanded Windstar recall at 27,000. Affected vehicles were built from September 1, 1998 through July 3, 2003 and were originally sold in or are currently registered in Virginia.
The problem
After many years of service on vehicles operating in high-corrosion areas of the U.S., corrosion can weaken the rear axle, making it susceptible to torsional stress. Ford documentation (PDF) states that there is a "small risk that the combined effects of corrosion and stress can lead to cracks which, if undetected, can propagate and result in a complete fracture of the axle."
A recent analysis by Ford showed that Windstar minivans in Virginia may have a similar problem to the vans in the original recall. The company received 11 reports of axle cracks from vehicles in Virginia from October 2011 to March 2012 and in late April 2012 decided to add Virginia to the vehicle population of the original recall.
A fractured axle can affect vehicle handling and increases crash risk.
2003 Ford Windstar Wagon SE
What Ford will do
Ford will notify owners of affected 1998-2003 Windstar minivans and instruct them to bring their vehicles to dealers who will then inspect the rear axles and reinforce or replace rear axles, as necessary, at no charge. In vehicles without signs of rear axle cracking or rust perforations, dealers will install axle reinforcement brackets. Rear axles will be replaced on vehicles with cracked or rust perforated axles. 
The Ford safety recall campaign is expected to begin on or about June 18, 2012. In the meantime, owners of affected Ford Windstar minivans with any questions or concerns may contact Ford at 1-866-436-7332. Reference Ford's recall campaign number 10S13.
Alternatively, owners of vehicles involved in the campaign may contact the NHTSA's Vehicle Safety Hotline at 1-888-327-4236 or go to http://www.safercar.gov.  Reference the NHTSA campaign ID No. 12V193000.