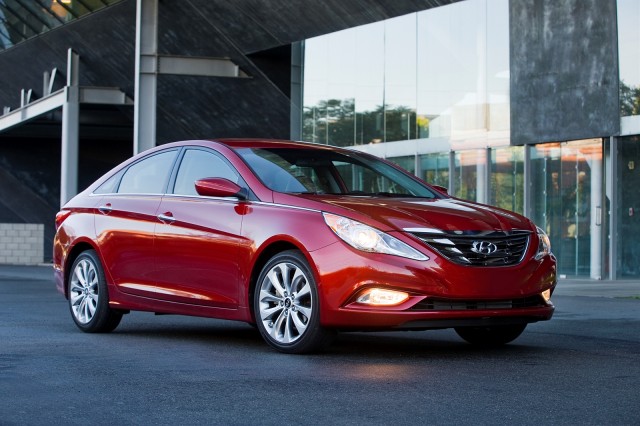 2012 Hyundai Sonata
Enlarge Photo
Hyundai College Grad Program
The Hyundai College Grad Program offers eligible graduates the opportunity to buy any new 2011, 2012 or 2013 model year Hyundai vehicle with no down payment, an additional $400 on top of current Hyundai rebates and 90 days until the first month's payment (not available in Connecticut and Pennsylvania).
Visit your Hyundai dealer and bring a copy of your diploma or letter from the registrar's office stating you graduated or will graduate, along with proof of employment or an offer letter from a prospective employer. Hyundai Motor Finance must deem your salary adequate to cover living expenses and car payments.
Graduates of a four-year university, accredited two-year college or nursing school are eligible. Graduation must be within the past two years or the next six months. Offer includes graduates and graduate candidates attending accredited master's or doctorate programs. Hyundai vehicle must be purchased between April 3, 2012 and July 2, 2012.
2012 Nissan Rogue
Enlarge Photo
Nissan SignatureGRADUATE Program
Nissan offers recent college graduates a customized finance choice through the company's SignatureGRADUATE Program. The program includes $500 cash back on 2011/2012 Nissan Rogue, Xterra, Cube, Altima sedan and coupe, Versa hatchback, and Juke, and 2012 Versa sedan, Sentra and Frontier. Ninety days deferred payment option is available on loans up to 60 months.
To qualify, provide proof of graduation within the next six months or the past two years from an accredited U.S. two- or four-year college or university, graduate school or nursing school. Students currently enrolled in graduate school are also eligible. Other requirements are proof of current employment or employment beginning within 90 days of financing approval, sufficient income to cover normal living expenses and car payments, auto insurance and approved credit.
2012 Toyota Camry XLE
Enlarge Photo
Southeast Toyota College Grad Rebate Program
If you live in Alabama, Florida, Georgia, North or South Carolina, are a recent college graduate or will soon graduate, are employed or have proof of employment beginning within 120 days of credit approval, you may be eligible for the Southeast Toyota College Grad Rebate Program.
Qualifying applicants get a $1,000 rebate on the purchase or lease of a new Toyota Camry (gasoline model only), Corolla, Matrix, RAV4, Tacoma, Yaris, or any Scion model. The College Grad Rebate Program may be combined with some other offers. Offer expires January 2, 2013.
2012 Volkswagen Passat
Enlarge Photo
Volkswagen College Graduate Program
With the Volkswagen College Graduate Program, eligible participants who buy or lease a new or certified pre-owned Volkswagen through Volkswagen Credit will have their first month's payment (up to $800) paid by VW. If you lease, there's no security deposit required. In addition, there's no credit history required, but if you do have existing credit, it must be in good standing. VW promises great rates even if you don't have credit, and there's no co-signer needed.
Getting started is easy. Visit your Volkswagen dealer and bring proof you graduated in the past 24 months or will graduate in the next six months, have a full-time job or written commitment from a future employer. You'll also need three personal references and be approved by Volkswagen Credit.
Other college grad offers
There are other special college grad offers to check out. See your local dealer for details on the following:
Acura – Special financing, leasing, and purchase-plan packages; deferred first-payment option for 90 days, with 60 days interest-free.
Audi – Special leasing offers.
Infiniti – Special financing and leasing offers, delayed first payment.
Lexus – No down payment when financing; 90-day deferred first payment, and complimentary roadside assistance for one year.
Mazda – Special leasing and financing options.
MINI – Special financing offers.
Subaru – Special leasing and financing options.