Chevrolet took its time to build a compact crossover SUV—but when it did the Equinox became a hit, thanks to generous proportions and a nifty sliding second-row seat. It even spawned a GMC edition, the boxy and rugged-looking Terrain.
Between those two GM utility vehicles, which one's better for buyers and drivers?
The two are very closely related: They're both from General Motors, assembled alongside each other and identically rated here at The Car Connection. While they might differ aesthetically and on some of the minor feature points, in either case, you get plenty of room as well as outstanding safety and lots of value—in a choice of unique designs.
We rate the GMC Terrain a 6.7 out of 10, while the Chevrolet Equinox comes in at a 6.5. That minuscule difference comes as a result of a wider array of option packages available on the Terrain, which can be nearly decadent in Denali trim. (Read more about how we rate cars.)
MORE: Read our 2017 Chevy Equinox and 2017 GMC Terrain reviews
Of the two, the Chevrolet Equinox is the more conservative one, perhaps more likely to appeal to mainstream buyers. Its rounded front end gives it an almost whimsical look, and only the distinctive and steeply-raked C-pillar make the Equinox stand out in the crowd. The GMC Terrain, on the other hand, looks nothing like its cross-division rival; with doses of testosterone and seriousness, the Terrain pumps up on a more chiseled, chunky look. Fenders feature oversized (and oddly squared) flares, and everything about the Terrain says "SUV," not "crossover." If we were inclined to stereotype, we'd say that female shoppers will be drawn to the Equinox, with male buyers favoring the Terrain.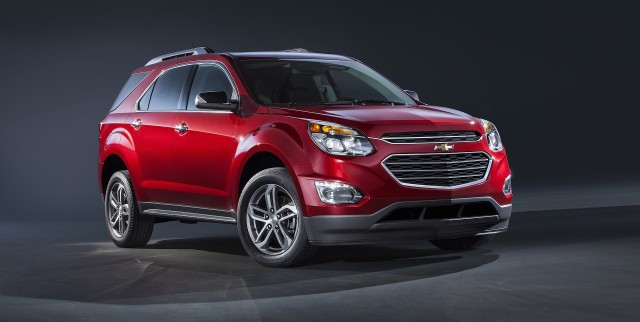 2016 Chevrolet Equinox
2016 Chevrolet Equinox
2016 Chevrolet Equinox
Both of these vehicles come from General Motors, and common components include powertrains, various underpinnings, and items like switchgear. Meanwhile trims and materials can be quite different between the two. And for the 2016 model year both of these models received a light refresh that keeps their feature sets updated and sharpens up the design; in both cases, the front-end look is more sculpted than before, while lower bodywork front and rear follows a revised look.
The most fuel-efficient engine choice is the 2.4-liter 4-cylinder, which produces 182 horsepower and delivers up to 32 mpg on the highway in either vehicle. This is probably a reasonable choice for most buyers, either in front-wheel drive or all-wheel drive, but those who need the ability to tow a light trailer will probably want to choose the 3.6-liter V-6. This engine delivers 301 hp and the ability to tow up to 3,500 pounds, but fuel economy drops to 24 mpg highway in front-drive models and 23 mpg in AWD versions (and we've found it to be a bit lower yet in real-world use).
Upright seating with a commanding view out ahead, plus a comfortable interior, all add up in either case to a vehicle that's great for busy parents. There's plenty of head room, even for rear seat passengers, and a reasonable amount of legroom, too. Ride quality is more than acceptable in either vehicle, though this year the GMC gets better shocks across the board for a smoother ride, while only the Equinox V-6 LTZ merits them. Both can be equipped to near-luxury levels of content with features like touchscreen infotainment systems, leather upholstery, voice command navigation and premium audio systems. A Terrain Denali trim level adds leather trim, dual power front seats, a new grille, and other luxe touches. The cabin of both vehicles is remarkably quiet, too, especially given their blue-collar roots and affordable price tags.
2016 GMC Terrain Denali
2016 GMC Terrain Denali
2016 GMC Terrain
2016 GMC Terrain Denali
Even ignoring the top-of-the-line Terrain Denali, prices do tend to run somewhat higher for the GMC; and so the Chevy Equinox wins out slightly in terms of value. All else nearly identical, it all comes back to styling: Opt for the toned-down lines of the Equinox, and chances are you'll get everything you need. Or if you're drawn to the chunkier, blockier, yet more opulent styling of the GMC, go for it.