New York City skyline
Less than a week remains before the start of the 2012 New York Auto Show's press days, with a bounty of new cars, crossovers, SUVs, and trucks ready for their global debuts. Most focus on improving gas mileage and onboard technology, while updating their looks--or cutting completely new figures.
Others are performance-focused and luxurious, all-electric and futuristic, or economical and affordable--the full spectrum will be on display.
Stay tuned on April 4th and 5th for complete coverage of all of the cars coming to New York, including those not yet revealed, over at Motor Authority, as well as our own previews of the cars most relevant to shoppers right here at The Car Connection.
Below you'll find our coverage of some of the highlights coming to the show.
2014 Chevrolet Impala Teaser
The completely new, 10th-generation Chevrolet Impala will make its debut at the 2012 New York Auto Show, but as the model-year designation indicates, it will wait some months before entering production as a 2014 model. Chevrolet says it will be a full-size sedan with engaging driving dynamics and a distinctive look.
2013 Acura RDX
All-new, with a completely different powertrain lineup, a new look, and vastly improved ride comfort, while still packing the reasonable price, high tech spec, and handy utility of the previous model, the 2013 Acura RDX promises to put the likes of the BMW X3, Audi Q5, and Lexus RX on notice--though from a different perspective.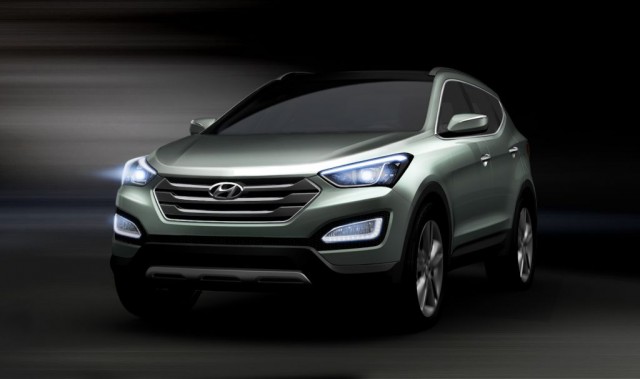 2013 Hyundai Santa Fe (ix45) teaser
Wearing the latest iteration of Hyundai's Fluidic Sculpture design theme, the 2013 Hyundai Santa Fe is sleek and smooth in a design age when crisper angles are common. Hints of powertrain updates to smaller, more efficient engines and transmissions have dogged the Santa Fe, but we'll see the full details next week in New York.
The 2013 Subaru XV Crosstrek
The 2013 Subaru XV Crosstrek, based on the new Impreza, is the brand's take on a slightly taller, more off-road-worthy wagon or hatchback, not unlike Volvo's and Audi's offerings in the class. With a 2.0-liter, 148-horsepower engine rated at 25 mpg city and 33 mpg highway and a much lower price point, the XV Crosstrek might just prove more popular than either.
2013 SRT Viper teaser
With Chrysler under Fiat control, the Dodge Viper dormant for the past two years, and the industry having passed through one of its worst periods of turmoil in recent memory, the arrival of the 2013 SRT Viper might seem like an irrelevant blip--but for those with a taste for extreme power, speed, and style, it might be just the ticket. Dodge is holding all information on the Viper close to its chest, so stay close next week for the official release.
2013 Chevrolet Traverse
A mild exterior facelift and updated interior featuring new technology and infotainment, the 2013 Chevrolet Traverse promises small but incremental improvements. Engines, transmissions, and other core specs remain unchanged.
The smallest of BMW's crossover range, the X1, will make its U.S. debut at the 2012 New York Auto Show. Already sold in other parts of the world, it's expected to arrive in America powered by the company's new 2.0-liter turbocharged four-cylinder engine paired with an eight-speed automatic transmission, with standard all-wheel drive.
Other cars at the show making U.S. or world debuts can be found in the links below.
2013 Nissan Altima Video Teaser #5: 2012 New York Auto Show Preview
2013 Mercedes-Benz GL Class Debuting At New York Auto Show
First Mercedes-Benz U.S. Compact Luxury Vehicle To Debut At 2012 New York Auto Show
2013 Toyota Venza Teased: 2012 New York Auto Show
2013 Mercedes-Benz GLK Class Preview: 2012 New York Auto Show
Fisker To Preview Project Nina At 2012 New York Auto Show
Facelifted 2013 Buick Enclave Teased Ahead Of New York Debut
2013 Mercedes-Benz SL65 AMG Preview: 2012 New York Auto Show