2017 Toyota Tacoma TRD Pro
Just a couple of years ago, mid-size pickup buyers would have been stuck with these two choices: The Nissan Frontier and the Toyota Tacoma. 
Flash forward to today, however, and there are some compelling new entries on the market: The Chevrolet Colorado, the GMC Canyon, and the Honda Ridgeline. But that's not to say that the old nameplates have stood pat over the last few years. Well, one of them has. Let's get to that in a minute. (Read more about how we rate cars.)
MORE: Read our reviews of the 2017 Nissan Frontier and the 2017 Toyota Tacoma
2017 Toyota Tacoma TRD Pro
2017 Toyota Tacoma TRD Pro
2017 Toyota Tacoma TRD Pro
That said, we're fairly confident that the Tacoma will outpace the Frontier—unless Nissan has a really big trick up its sleeve. The Tacoma was redesigned for 2016, gaining a new look, a new engine, a new transmission, a lot of technology upgrades... you get the idea. The Frontier, on the other hand, has only been lightly updated since its 2005 model year redesign. That's more than a decade on the market.
The Tacoma gained a new 3.5-liter direct-injection V-6 that makes 278 horsepower and 265 pound-feet of torque mated to 6-speed manual or automatic transmissions. There's still a base 4-cylinder version of the Tacoma, with a 2.7-liter inline-4 making 159 hp and 180 lb-ft of torque paired to automatic or manual 5-speed transmissions. 
By contrast, the Frontier's base engine is rated at just 152 hp, but it feels like even less. Most buyers opt for the robust 4.0-liter V-6 with its 261 horsepower and 281 lb-ft of torque. The Frontier is downright quick, but it's also downright thirsty. While the V-6, automatic, 4x4 Tacoma is rated by the EPA at 18 mpg city, 23 highway, 20 combined, the Frontier is just 15/21/17. That's a difference worth noting.
In real-world use, the Tacoma benefits from some major suspension revisions last year that help it ride especially well for a mid-size pickup. In this regard, the Frontier has aged fairly well; its steering is accurate and its suspension is reasonably well-controlled.
However, the differences begin to mount again when you look at the way the two trucks are outfitted. The Frontier's interior is from a different decade—literally. In both, you'll find a legs-out driving position that's rather un-truck-like, a relic of their high ground clearance and relatively low-roof designs. The General Motors and Honda competitors deliver a more comfortable driving position overall. In terms of infotainment, it's not even a comparison. The Frontier's audio systems feel dated, even at the upper end of the lineup. The Tacoma offers Toyota's solid Entune infotainment, which is easy to use and features a nice, clear screen. 
2016 Nissan Frontier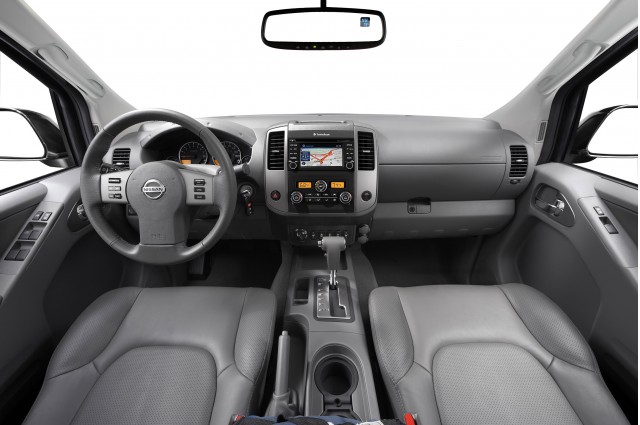 2016 Nissan Frontier
2016 Nissan Frontier
There's a lot more breadth to the Tacoma lineup, too. Anchoring the bottom end of the lineup is the value-oriented SR, while the SR5 is designed to be the high-volume model. But off-roaders will appreciate the TRD Off Road and new TRD Pro packages that deliver the highest degree of four-wheeling capability found in a mid-size pickup. The Frontier's lineup is similar, starting off with workaday S and SV trim levels. The PRO-4X is the most hardcore off-roader of the pack, with its Bilstein suspension and locking rear differential, but it doesn't match both TRD models' crawl control, advanced traction control systems, and outright ground clearance. 
So where does the Frontier score? Its age is an asset if you're a value shopper. While it's not priced that much less than the Tacoma, strong demand for the Toyota means that discounts are relatively minor. The Frontier should have money on its hood before you even walk into the showroom.
On the safety front, we don't really have a complete picture for either truck as we're still awaiting some crash test data (which typically comes slowly for pickups). Neither offers any sort of active collision avoidance tech, however, which is something we hope to see on both models soon.
What'll be the right truck for you? 
___________________________________________
Follow The Car Connection on Facebook and Twitter.