If getting on the road with the family is in your plans, maybe for spring break or a summer vacation, and you're in the market for a new vehicle to meet the household needs, a ranking of the best new family cars for road trips might just come in handy.
Total Car Score, a car comparison site, took a look at every minivan, mid-size sedan, SUV and crossover vehicle in the market and, using an aggregate score from nine of the most trusted automotive authorities available, came up with a list of the top-ranking choices in family hauler categories.
What do these vehicles have in common? According to Karl Brauer, Total Car Score's editor-in-chief,  "Across the industry, they are well-liked by third-party rating sources, they all offer a fair amount of value, are fairly fuel-efficient for the category they're in, and have a fair amount of technology and feature content either standard or optional."
In addition, most of these vehicles were redesigned or significantly updated within the last couple of years.
Before we get into the specific family cars that ranked highest in Total Car Score's compilation, here's a quick overview of the sources and the method used to arrive at the overall score for each.
Sources and scoring methodology
Who are these "most trusted automotive authorities?"  The nine are all third-party sources and include Consumer Guide, Consumer Reports, Edmunds,  J.D. Power and Associates, TheCarConnection (a sister publication of FamilyCarGuide) , MSN Autos, U.S. News & World Report, the National Highway Traffic Safety Administration (NHTSA), and the Insurance Institute for Highway Safety (IIHS).
Readers familiar with the various sites know that some have five-star rating systems, or use bubbles or circles. While they are unique, their scoring systems can all be converted into a percentage number which Total Car Score averages to arrive at the vehicle's Total Car Score.
There is also a 10th factor derived from a vehicle's fuel economy rating that also influences a vehicle's Total Car Score. See more about how the site accomplishes this here.
Top 10 best family cars for road trips
Here are the best family cars for road trips, listed in order of their overall Total Car Score (TCS) ranking. While you can go to the TCS site to click on each of the third-party sources to check out their ratings, we've included a link to our own TheCarConnection review for each model.
2012 Toyota Camry Hybrid – The undisputed leader, with an overall 85.59 score, the 2012 Toyota Camry Hybrid, comes out on top for several reasons. The 2012 Toyota Camry Hybrid, completely redesigned this year (like all Camrys), benefits from crisper styling, a roomier cabin, and a re-engineered Toyota Hybrid Synergy Drive system that boosts performance and fuel economy. Best of all, says the Total Car Score analysis, "it drives like a 'normal car.'" While the site lists "N/A" for TheCarConnection, a just-published review on our sister site gives the 2012 Toyota Camry line (including the Hybrid) an 8.0 (out of 10) overall score.
2012 Chevrolet Traverse
2012 Chevrolet Traverse– Scoring higher than any other vehicle in the SUV or crossover category, coming in at 85.01 overall score, is the 2012 Chevrolet Traverse crossover, with seating for up to eight, which TheCarConnection, in a review, rates as an 8 (out of 10). Excellent safety scores and good features are highlights of the Traverse, "one of the best vehicles in today's Chevy lineup," says TheCarConnection.
2012 Ford Flex
2012 Ford Flex – Total Car Score ranks the 2012 Ford Flex 84.87, close behind the Chevy Traverse, but editors of TheCarConnection give it a 9.2 (out of 10) overall score, saying the Flex "has real distinction, along with top-shelf turbo power, great seats and great features."
2012 Kia Optima
2012 Kia Optima – One of the few family cars in the mid-size segment with perfect safety scores, the 2012 Kia Optima (TCS of 84.74) has a European flair, fuel-efficient powertrain options, is an excellent value with a long list of standard features and a lengthy warranty. See why TheCarConnection gives it a somewhat higher score (8.6) here.
2012 GMC Acadia Denali
2012 GMC Acadia – The GMC equivalent of the Chevy Traverse, the eight-passenger 2012 GMC Acadia, with a TCS score of 84.47,  is "better for people than a big SUV and better than a minivan," according to this review in TheCarConnection.
2012 Hyundai Sonata
2012 Hyundai Sonata – Totally redesigned last year, the 2012 Hyundai Sonata, scoring 84.30 in TCS ranking "is one of those rare cars that does just about everything well."  The list includes good looks, wide range of powertrains, well-appointed and roomy interior, standard features that are optional in many competitors, near-perfect crash test scores and lengthy, comprehensive warranty. See TheCarConnection review here.
2012 Honda Odyssey
2012 Honda Odyssey – Highest-scoring of all the minivans (80.84 TCS score), the 2012 Honda Odyssey offers families a large roster of useful amenities, lots of passenger and cargo space, class-leading child seat integration, easy-fold third-row seats and much more. TheCarConnection, meanwhile, rates the Odyssey at 8.6 (out of 10).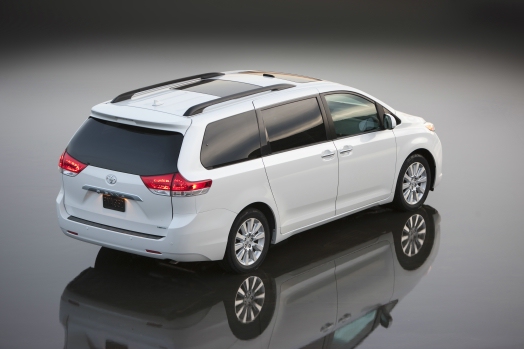 2012 Toyota Sienna
2012 Toyota Sienna – Not far behind the Odyssey is the 2012 Toyota Sienna minivan, scoring 80.37 from TCS. Attributes families may find handy for road trips include the flexibility of seven- or eight-passenger seating, availability of all-wheel drive (the only minivan to offer this), versatile second- and third-row configurations, spirited V-6 engine and frugal four-cylinder option.  Check out TheCarConnection  review here.
2012 Toyota Prius V
2012 Toyota Prius – Noting that the standard Prius is now joined by two new models, the Prius v and Prius Plug-In, and a third on the way, the Prius c, the 2012 Toyota Prius rates highly in TCS scoring with an overall 79.30 score. In TheCarConnection, editors give the Prius a 7.6 rating, saying it "remains the highest-mileage car offered in the U.S., and it's a practical and capacious mid-size hatchback with room for five."
2012 Chrysler Town & Country
2012 Chrysler Town & Country – The final entry on the best family cars for road trips, the 2012 Chrysler Town & Country minivan, comes in at a 77.79 TCS score. Key family-friendly attributes include functionality, abundance of high-end features standard, spacious and well-designed cabin, Stow 'n Go second-row seats and strong overall safety ratings. TheCarConnection finds the Chrysler Town & Country "fully equipped and a significant bargain compared to well-equipped minivans from Japan."
Sign up for our free newsletter or follow us on Facebook or Twitter.