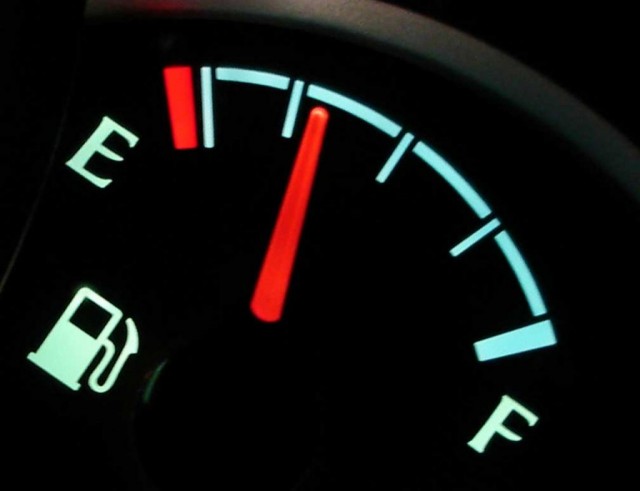 Fuel gauge
Gas prices are going up, up, up, and since the stuff only gets more expensive during warmer months, we doubt prices will slide anytime soon. That may help explain why shoppers are leaning toward more fuel-efficient rides and why the average fuel economy of new vehicles sold in January hit an all-time high.
The news comes from TrueCar, which tracks data on vehicles sold in the U.S. On the fuel economy front, TrueCar "computes monthly average fuel economy by brand, manufacturer, origin and vehicle segments by using actual sales data or forecasted sales data", resulting in something called TrueMPG. That figure takes into account not just the EPA rating of each car, but also the trim levels of vehicles sold, to provide a more accurate picture of fuel stats.
In January 2012, the TrueMPG average for new cars sold hit 22.9 mpg -- up from 22.0 mpg just a year ago. Not surprisingly, Asian marques landed at the top of the curve, with South Korean brands hitting 27.4 mpg and Japanese marques reaching 24.6 mpg. European automakers followed at 22.4 mpg, with U.S. companies bringing up the rear at 20.3 mpg (thanks to the greater number of big trucks and SUVs in their lineups). 
When broken out by brand, however, the rankings were a little more varied. Smart -- whose tiny fortwo citycar has taken heat for not being more efficient -- still landed in the top spot, with an average fuel economy of 35.8 mpg. (Though it should be noted that Smart's lineup is far more limited than most other brands.)
At the bottom of the heap? No prizes for guessing it's Land Rover, clocking in at just 15.3 mpg.
Takeaways
Thanks in part to soaring pump prices, fuel economy is now the most important criteria when shoppers make decisions about new cars. In fact, consumers rank efficiency well above performance, styling, and even reliability. 
This goes a long way toward explaining why fuel-efficient cars are flying off the lots. (Though as we pointed out just a few weeks ago, fewer of those new rides are hybrids than you'd expect.) We expect to see this trend continue, due in part to gas prices, but also because of new federal regulations that will continue boosting the average fuel economy of new cars manufactured through 2025.
But what's causing gas prices to rise? No one can say for sure. It's certainly not demand -- in fact, demand for gas hasn't been this low since 1997. 
Some analysts believe it's due to speculation in the oil markets, fueled (no pun intended) by Iran's probably idle threat to shut down the Strait of Hormuz. But even if that's the case, and even if there's a correction in those markets, don't expect to see the per-gallon price fall much in the new future. Many places in the U.S. will likely hit the dreaded $4-a-gallon mark this summer.
Are you looking for a new ride? Is fuel economy a big issue for you -- and if not, why not? Drop us an email, or leave a note in the comments below.