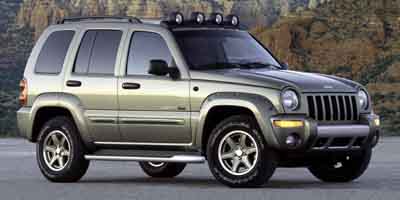 2003 Jeep Liberty Renegade
The National Highway Traffic Safety Administration has ramped up its investigation of the popular Jeep Liberty after dozens of reports of airbags deploying without warning. According to a report in the Detroit Free Press, the problem affects Liberty SUVs from the 2002 and 2003 model years.
In all, Jeep's parent company, Chrysler, has received some 87 complaints from consumers, who have said that the airbags in the Liberty fired without cause. Interestingly, 42 of those complaints have involved only the driver's front airbag, while 45 have involved the airbags of both the driver and front passenger.
What's also interesting is that there seems to be no consistent conditions under which the deployments occur. Some have happened when the vehicles were started, others while the SUV was in motion. And while some drivers recall seeing a warning light illuminated before the airbag deployed, others reports say that the airbags fired with no warning at all.
Drivers and passengers have suffered an array of burns cuts and bruises. However, the problem has not resulted in any fatalities.
Chrysler seems to think that the flaw lies with the airbag control computer chip, which can fail during an electrical voltage spike. The company has yet to identify the cause of such a spike, though it has said that the problem doesn't seem to affect vehicles manufactured after March 19, 2003.
The NHTSA began investigating the problem in September of last year. At the time, the agency had received 30-odd reports of the problem. Now that an additional 50 complaints have rolled in, the NHTSA has upgraded its investigation to a full engineering analysis. All told, the investigation involves some 387,000 vehicles.
The next step will be a full recall of the Liberty, but before that can happen, Chrysler and the NHTSA will need to identify the exact cause of the problem. We'll keep you updated as the investigation progresses.