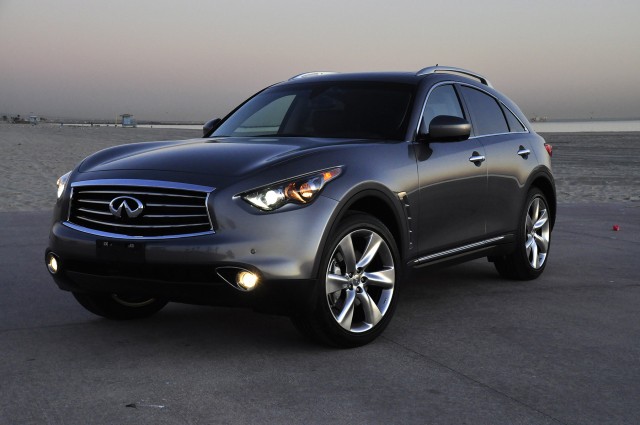 Anne Proffit photo
The 2012 Infiniti FX50S AWD has something for everyone: it has sports car capabilities wrapped around an SUV's clothing, feels just as comfortable going off-road as it does hurtling through upscale shopping mall parking lots and allows the technoid in the family to enjoy every possible gadget one could possibly want in a road-going machine.
When I first got into the FX50S, I thought there were a bit too many features, but the more I drove it and enjoyed the lusty 5.0-liter double overhead cam V-8 engine with 390 rousing horsepower at 6500 rpm and an equally tire-busting 369 pound-feet of torque at 4400 rpm, I forgot about all the items that make this SUV an enviably luxurious machine and concentrated on its sporting nature.
With a seven-speed shiftable transmission that has sequential capabilities on the floor and paddles behind the steering wheel, getting the FX50S off the line and through the madding hordes is easily accomplished, particularly with rev-matching on downshifts.  I particularly appreciate this machine's sport-tuned suspension that consists of double wishbones and multi-link setups front and rear, together with stabilizer bars.  Turning circle is an excellent 36.7 feet for this size vehicle.
The 2012 Infiniti FX50S is no lightweight, coming in at 4557 pounds with all-wheel drive.  Yet it doesn't have a terribly large footprint, at 191.3 inches long, 75.9 inches wide, 66.1 inches tall with a tidy wheelbase of 113.6 inches.  Ground clearance is 7.4 inches and the angle of approach is 28.8 degrees.  Angle of departure is 20.9 degrees.
Capable over the road, the FX50S has anti-lock ventilated front and rear brakes.  Speed-sensitive power steering has just the right amount of heft for those of us that are always inclined to let the vehicle run hard and fast.  Because this particular FX50S has all-wheel drive, it's fitted with Bridgestone Dueler rubber measuring P265/45R-21 (yes, 21-inch) mounted on six-spoke handsome alloy rims.  Sometimes I think wheels are getting a tad too big...
All the forward fun comes at a bit of a price, as the 2012 Infiniti FX50S AWD has mileage ratings of 14/20 mpg and requires premium fuel for breakfast, lunch and dinner.    When I picked up the Graphite Shadow (with graphite leather interior) FX50S it had less than 500 miles on the odometer; the trip computer said range from the 23.8-gallon tank was 385 miles.  The range number pretty much stayed over 300 (it varies as you drive) even as I knocked out close to 150 miles in cut-and-thrust Los Angeles traffic.  
I like the muscular look of the Infiniti FX series SUVs, with their menacingly broad shoulders and athletic demeanor, backed up in the FX50S with running gear that is, for once, ready to run.  I also like the meaty growl of the pair of exhausts.  On the other hand, the luxury of this SUV is immense - and often intense.  
There's lots of bright, chrome accents about the car and there is a "magic button" that locks and unlocks the doors, allowing the driver to keep the fob in the pocket and just drive, baby, drive, using the push-button ignition.  There are soft-touch plastics everywhere, even folding mirrors, and an excellent, intuitive navigation system.  Wood accents and matte plastics give an interior aura of calmness in stark contrast to this SUV's willing demeanor.
This is no cheap date, starting at $60,245 including destination.  Infiniti has three options on this FX50S: the technology package at $2900, the $3100 sport package and $300 illuminated kick plates, bringing the grand total to $66,545.
What do you get for more than $65 large?  
The technology package is the one I'm not terribly keen on, but then I'm a driver, not an operator of motor vehicles.  This package includes intelligent cruise control that slows the car when you're too close to those in front (and distance can be dictated by the driver), lane-departure warning and prevention, distance control assist, intelligent brake assist with forward collision warning, front pre-crash seat belts, adaptive front lighting with auto leveling and rain-sensing wipers.  
I object to many of these "helpers" because I interact with a vehicle.  The only items I'd keep are safety-related, which does not include the "intelligent" cruise control.  Items of this nature simply compensate for a less-than-attentive driver, and the FX50S wants and needs a driver who likes to drive.
The sport package adds continuous damping control with auto and sport modes (the latter is certainly more suited to aggressive driving), rear active steer, solid magnesium paddle shifters, sport style ventilated front seats (yummy) with thigh support (and power settings for the passenger), driver's seat with four-way power bolster adjustment and dark-tinted side air vents, lower side trim and headlight housings.
Is it all worth it?  That's for a buyer to decide.  When I first drove the 2012 Infiniti FX50S AWD, I wasn't terribly sure.  After a week, I found myself liking it more and more, even though I still wasn't terribly keen on the plethora of features.  And while it comfortably seats five, the cargo capacity of 24.8 cubic feet with all seats in place at maximum of 62 cubes is good, but not great for this class of vehicle.
Taking this SUV at face value, its quickness and agility are far superior to its technoid features.  I love the ultimate power, the brakes, the direct steering and its overall good looks.  As for all the gizmos, they're simply not my style.
© 2011 Anne Proffit