Family car buyers looking for an attractive, fuel-efficient and comfortable vehicle have three clear winners from the three vehicles just named Best Car To Buy from TheCarConnection and GreenCarReports: the 2012 Ford Focus, and the 2012 Toyota Prius V wagon and 2012 Prius Plug-In Hybrid, respectively.
2012 Ford Focus
Enlarge Photo
TheCarConnection award to the 2012 Ford Focus as Best Car to Buy may come as a surprise to some, but not to the publication's editors who tested, among them, more than a half-dozen differently-equipped Focus hatchback and sedan models this year.
Hailing the Focus' "sweet steering and sporty ride," "great front seats and class-leading safety features," editors conclude by saying that the Focus wins, purely and simply, because it is an "engaging, premium-feeling compact car that nudges into sport-sedan territory." And this is before the 240-horsepower turbocharged Focus ST arrives.
2012 Toyota Prius v
Enlarge Photo
Moving to the Best Car to Buy award winner from GreenCarReports, here editors choose a pair of models from the expanding family of Toyota Prii, the 2012 Prius V wagon and the 2012 Prius Plug-In Hybrid.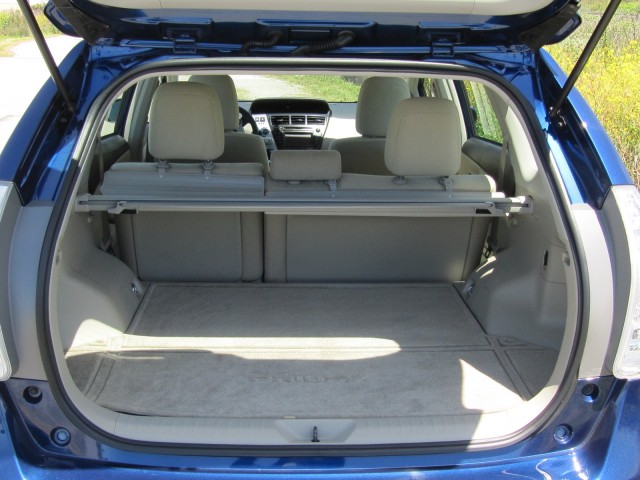 2012 Toyota Prius V station wagon, Half Moon Bay, CA, May 2011
Enlarge Photo
The 2012 Prius V wagon should generate considerable interest in families looking for a green vehicle that actually carries the family of five and assorted gear in an economical fashion and without cramping either style or space. The Prius V wagon is longer, taller and has "far more load space" than the standard 2012 Prius hatchback. How much space? There's 32 to 40 cubic feet of space behind the rear seat and 67 cubic feet with the rear seat down. This compares with 22 cubic feet in the standard Prius hatchback with the rear seat up.
But green also means being very fuel efficient. And while the 44 mpg city/40 mpg highway/42 mpg combined isn't quite the 50 mpg combined that the Prius hatchback gets, the Prius V wagon may make more sense for family use for some buyers.
2012 Toyota Prius Plug-in Hybrid
Enlarge Photo
As for the 2012 Prius Plug-In Hybrid, GreenCarReports says it is less expensive than either of the other two plug-in hybrids currently available, the 2012 Nissan Leaf and the 2012 Chevrolet Volt, before any tax credits. True, the Leaf costs less after a $7,500 federal tax credit than the Prius Plug-In Hybrid will after an expected $2,500 federal tax credit, $27,700 compared with $30,260, respectively, but Prius Plug-In Hybrid buyers won't have any of that "range anxiety" that some Leaf buyers may experience.
As for comparison with the Chevy Volt, priced from $$39,995, the Prius Plug-In Hybrid is significantly cheaper, even after tax credits. And, as editors point out, "it will hold five passengers and far more cargo than the tight quarters of the Volt extended-range electric vehicle."
Congratulations to the 2012 Ford Focus and the 2012 Toyota Prius V wagon and 2012 Toyota Plug-In Hybrid as Best Cars to Buy.
Sign up for our free newsletter or follow us on Facebook or Twitter.