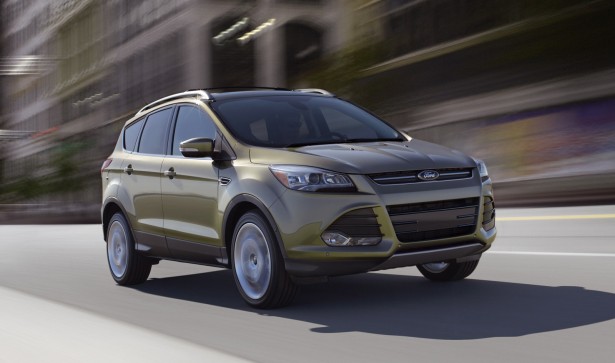 2013 Ford Escape
L.A. is the epicenter of luxury-car sales. But if you're looking for exotic roadsters, super-luxury saloons and hand-built sportscars at the 2011 Los Angeles Auto Show, you'll have to look to find them. For the most part, they're tucked away in a sunken gallery, under the walkway that connects the two main halls of the Los Angeles Convention Center.
Those main halls? They're filled with inexpensive new crossover vehicles and popularly priced four-door sedans coming in the next two model years, as automakers set their sights in L.A. clearly on the mainstream.
For a show that should by all rights be overwhelmed by sheer horsepower, this year's Los Angeles auto show teemed with some pretty, practical hardware. The two best-selling compact utes on the market went head to head at the show, before they tangle in showrooms as 2013 models. On another front, a new American luxury sedan took its first bow, without a V-8 to be seen. Of course, the musclecar contingent counted 1250 horsepower between just two cars--but for the most part, the price of admission to this year's L.A. show seemed to be...an all-wheel-drive option.
The highlights from the show include these 2012 and 2013 models:
The new Escape arrives more than a decade after Ford's first compact crossover hit the market in 2001. Skipping its green Hybrid edition entirely, the new '13 Escape offers a trio of four-cylinder engines to buyers, including a carryover base engine, a new 1.6-liter turbocharged four, and a top-line 2.0-liter turbo four. The cabin's more spacious, and the new Escape also features MyFord Touch, which lets drivers run audio, phone, climate and navigation systems with voice commands, touchscreen swipes, or steering-wheel button clicks.
2013 Mazda CX-5 compact crossover revealed at Los Angeles Auto Show, Nov 2011
Ford and Mazda aren't as close on the business side as they once were, and the new CX-5 shares none of its underpinnings with the new Escape, which is built off Ford's "C" architecture, which also spawned the new Focus lineup and the coming C-Max hybrid. Mazda's cheery crossover doesn't have the front-end smile found on their recent cars, but it does have "SKYACTIV" engine technology that gives the 155-horsepower CX-5 gas mileage of up to 33 mpg on the highway cycle.
2012 Honda CR-V - First Drive
The CR-V is new this year, and Honda's popular crossover gets an entirely new look this year, and it's one of Honda's more cohesive efforts of late. Its four-cylinder engine now makes 185 horsepower, and the rear seats have an innovate folding mechanism that makes flipping the bench down for cargo a one-handed task. The CR-V also has new infotainment features, like compatibility with Pandora in-car audio streaming, as Honda plays catch-up with Ford, Hyundai and others in connectivity.
2012 Hyundai Azera
The Azera comes later to its curvy new styling theme than its Hyundai siblings, the Sonata and Elantra and Accent. A full-size sedan that's sized to compete with the likes of the Ford Taurus, Buick LaCrosse, VW Passat and Toyota Avalon, the new front-drive Azera has a 293-horsepower V-6 that replaces both its former V-6 engine choices, and a six-speed automatic. Also new is Hyundai's Blue Link, a telematics system like GM's OnStar that uses live operators to help drivers find destinations and make reservations, and links to a website where owners can set limits on where the Azera's driven, how loud the stereo can be played, and what times it's allowed to be on the streets.
2013 Cadillac XTS
Cadillac's replacement for its STS and DTS sedans arrives in the 2013 model year in the form of the new XTS. The new four-door comes in front- or all-wheel-drive form, but both versions are offered only with a 3.6-liter V-6 with 300 horsepower, and a six-speed automatic--no V-8 engines will be offered. The XTS also marks the debut of Cadillac Cue, a system like Ford's MyFord Touch that blends touchscreen, voice, and steering-wheel controls in a new interface for drivers and their phone, audio, climate and navigation systems.
2013 Infiniti JX Concept
Infiniti's new seven-passenger crossover fills a niche in the luxury brand's lineup, above the more compact EX and FX, but less expensive and less bulky than the massive QX56 sport-utility vehicle. Sharing a production line in Tennessee with the Nissan Murano, the JX also shares the Murano's V-6/CVT powertrain, but the luxe wood-trimmed interior is all its own--as is the standard third-row seat.
Flanking these vehicles on the biggest L.A. show stands were some truly sporty cars. The 2013 Ford Mustang came as a trio: an improved GT with 420 horsepower, a Boss 302, and a rollicking Shelby GT500 with a stunning 650 horsepower, all the better to take on Chevy's latest 580-hp Camaro ZL1. The Subaru BRZ showed up as well--but still in concept-car form, its final shape set to be shown at the Tokyo Motor Show in two weeks.
And while some exotic cars stood shoulder to shoulder with more prosaic fare--Bentley's new GTC convertible wasn't far away from Nissan's commercial NV van, turned into a grilled-cheese food truck for media days--some more exotic brands chose to avoid the crush entirely, and to keep their affairs intimate. Lamborghini? It skipped the convention center entirely, and instead showed off a new limited-edition Gallardo at its Beverly Hills showroom.