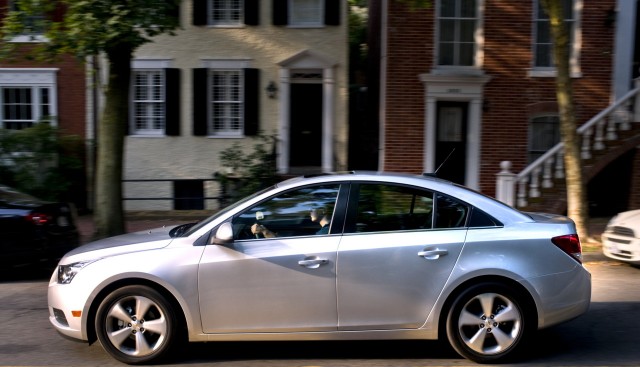 2011 Chevrolet Cruze
Enlarge Photo
It makes a lot of sense, and we probably don't need a poll to tell us this, but a new survey commissioned by Allstate shows that parents are spending less on cars for their teens, citing the economy as the principal reason.
Specifically, the survey found that 60 percent of parents in America whose teenagers currently have a driver's license and 46 percent of all parents say the economic downturn has prompted them to cut back on all spending for a car for their teens. This includes the cost of the car and related expenses, such as insurance, inspections, registration fees and maintenance.
The lower the household income, the more likely parents are to put off or drastically cut down on a car for their teens, according to the survey. Among parents with household income less than $30,000 per year, 72 percent indicated that they are saving or spending less on teen car purchases and expenses, compared with 32 percent in households where the income exceeds $75,000.
Some other interesting findings of the survey:
-      An overwhelming majority of parents whose teen does have a car say the car is a used one, with a mean age of 9.3 years. The coincidence here is that the mean age of the car the parents themselves say they drove as teenagers is roughly the same, a mean age of 9.2 years.
-      Parents said car safety is their top priority when thinking about the kind of car their teen should drive (76 percent), followed by reliability (18 percent), affordability (5 percent), and fuel efficiency (1 percent).
-      Two "good" reasons why teens should have a car, say parents, are to go to school (89 percent) and work (97 percent).
-      When asked what parents would be willing to pay for a car for their teen, among all parents, 57 percent said they'd spend $5,000 or less, while 41 percent indicated they'd spend more than $5,000.
-      As to what expenses they would be willing to pick up or assist with for their teen's car, parents say they'd be most likely to pay for include inspections and registration fees (51 percent), insurance (45 percent), and general maintenance (44 percent). As for gasoline, only 17 percent said they'd pay for all or most of it. This was also the same percent that said they pay for all or most of expenses associated with any damage their teen caused.
The bottom line in all this is that when the economy improves, parents may be more likely to reconsider spending their hard-earned money on a car for their teenager.
[Allstate]
Sign up for our free newsletter or follow us on Facebook or Twitter.