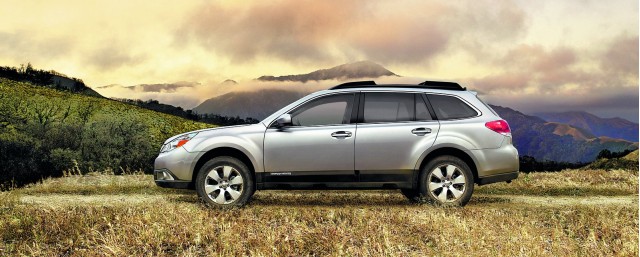 2011 Subaru Outback
Subaru has announced two major recalls, affecting 195,080 model year 2010 and 2011 Subaru Legacy and Outback models and 295,123 Subaru Forester, Impreza and Saab 9-2X models built between 2002 and 2008.
The recall for the 2010-2011 Subaru Legacy and Outback models relates to an overheating condition in the windshield wiper motor assembly lower cover. Should the motor and associated components overheat to the point of motor failure, operator visibility in wet conditions will diminish, increasing the likelihood of a crash. There is also a potential fire risk from the overheated component contacting the bottom plastic resin panel of the wiper motor assembly.
The repair involves replacing the windshield wiper motor assembly bottom cover with one of proper dimensions. Dealers will replace the front wiper motor bottom cover at no charge to consumers when the recall begins in November of 2011.
The second recall campaign begun by Subaru involves certain 2002-2007 Impreza models, 2003-2008 Forester models and 2005-2006 Saab 9-2X models, sold or currently registered in Northeast or Midwestern states that use snow-melting agents such as road salt.
When driven in corrosive environments, some vehicles may experience the front lower control arm breaking at the joint with the hanger bracket. A broken lower control arm can result in loss of vehicle control, increasing the likelihood of an accident.
Specific states included in this second recall are Connecticut, Delaware, District of Columbia, Illinois, Indiana, Iowa, Maine, Maryland, Massachusetts, Michigan, Minnesota, Missouri, New Hampshire, New Jersey, New York, Ohio, Pennsylvania, Rhode Island, Vermont, West Virginia and Wisconsin. Dealers will inspect the lower control arms of affected vehicles and wither rustproof or replace them as necessary when the recall begins in November of 2011.
For both recalls, customers with questions or concerns can reach Subaru's customer service hotline at 800-782-2783, or they may contact the National Highway Traffic Safety Administration's Vehicle Safety Hotline at 888-327-4236.
[NHTSA]