Drivers who live in hilly areas or on streets with steep inclines learn fairly quickly that it takes a certain amount of skill to safely park and be able to start up again without rolling backward. No more need to turn the wheels into the curb or put blocks behind the rear wheels, as long as you buy a car equipped with hill-hold assist.
Of course, for many cars that have this feature, a manual transmission is required. There are, however, some exceptions. Here we take a look at six different family cars offering this security and safety feature.
2012 Mercedes-Benz M-Class – For the all-new for 2012 Mercedes-Benz M-Class five-passenger luxury SUV, the system is called Hill Start Assist, and it's standard, part of the ML350's adaptive braking technology system. Power comes from an all-new 302-horsepower 3.5-liter direct-injection V-6 engine mated with a seven-speed automatic transmission. Also standard is 4MATIC all-wheel drive, four-wheel electronic traction system, nine airbags, and a variety of optional safety technology, including blind spot assist, lane keeping assist, rearview camera, and more.
2012 Chevrolet Sonic. Photo by Joe Nuxoll
2012 Chevrolet Sonic – Chevrolet's replacement for the Aveo, the all-new 2012 Sonic, features standard hill-hold assist technology on all models equipped with manual transmissions. A pitch sensor in the hill-hold system detects the tilt of the car's body when it is stopped on a slope and sends a signal to the vehicle's stability control system. This triggers the electronically controlled brake hardware and keeps the wheels clamped for up to two seconds after the driver releases the brake pedal. The system holds the Sonic in place long enough for the driver to safely apply the accelerator and let out the clutch for a smooth start.
2012 Volkswagen Passat
2012 Volkswagen Passat – Larger inside and out and less expensive than last year's model, the redesigned 2012 Volkswagen Passat mid-size family sedan also features hill-hold control as standard equipment, along with other standard safety equipment including six airbags, electronic stability control, ABS, engine braking assist and hydraulic braking assist, and a tire pressure monitoring system.
2012 Audi A3
2012 Audi A3 – In Audi A3 models, hold assist is standard, part of the ABS-ESC control system. Hold assist is activated by pressing a button, allowing the driver to set the car in motion without the need to use the handbrake at all. With Audi hold assist active, when the car is stationary for a long period of time, the system automatically switches over to the electromechanical parking brake.  Hold assist keeps the car stationary once it has stopped and automatically prevents it from rolling on uphill or downhill gradients. Hill starts and stops are easier with no need to use a handbrake.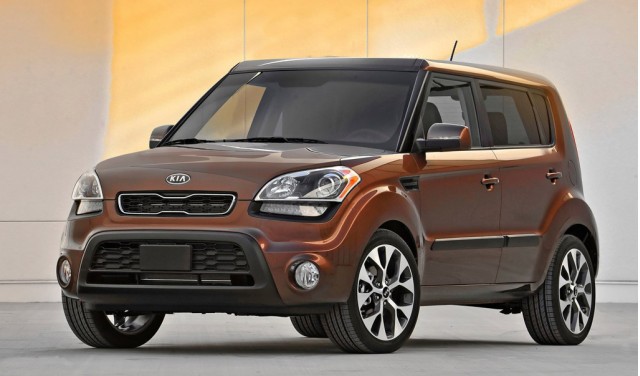 2012 Kia Soul
2012 Kia Soul – The small, versatile hatchback has a lot more going for it than just cute good looks and innovative storage. Kia provides hill-start assist control as standard equipment on every model. Perfect for your offspring heading off to college in a mountainous locale or for driving-age kids who like to explore trailheads in hilly recreation areas.
2012 BMW 5-Series
2012 BMW 5-Series – For the 2012 model year, BMW xDrive intelligent all-wheel drive is available for the 528i. Every 2012 BMW xDrive model receives standard Hill Descent Control, a selectable function that allows the driver to descend slopes in extremely slippery conditions while maintaining control at a pre-set speed.
Sign up for our free newsletter or follow us on Facebook or Twitter.