Looking for the perfect family vehicle that's not a station wagon, not a full-size SUV, minivan or sedan? We've got five to consider, including three hatchbacks and two small crossovers.
What they've all got in common is versatility, plenty of room for passengers and cargo, and a variety of available options; and they're not station wagons.
2012 Ford Focus SE Hatchback – Fun to drive, with available sport suspension, appealing exterior styling, and all kinds of storage space, the redesigned five-passenger 2012 Ford Focus SE five-door hatchback should definitely be on your possibilities list as a substitute for a station wagon. Front door storage bins, a full-floor center console with storage, and removable rear package tray are standard. With the 60/40-split folding rear seats down, there's a total of 44.8 cubic feet of cargo volume. Behind the second row, there's 23.8 cubic feet of space. The Focus SE hatchback is also affordable, starting at $18,200.
2012 Subaru Impreza
Enlarge Photo
2012 Subaru Impreza Hatchback – Available in November, the redesigned 2012 Subaru Impreza five-door hatchback is larger on the outside and inside than the outgoing model. In the hatchback, that translates to two inches more rear-seat legroom, more shoulder room all around, and Subaru says that the cargo area volume also increases. While full details aren't yet available from the automaker, Subaru has indicated that the starting price for the base five-door 2012 Impreza 2.0i is $17,995 with five-speed manual transmission and $18,995 when equipped with the continuously variable transmission (CVT). Best of all is the standard Subaru symmetrical all-wheel drive.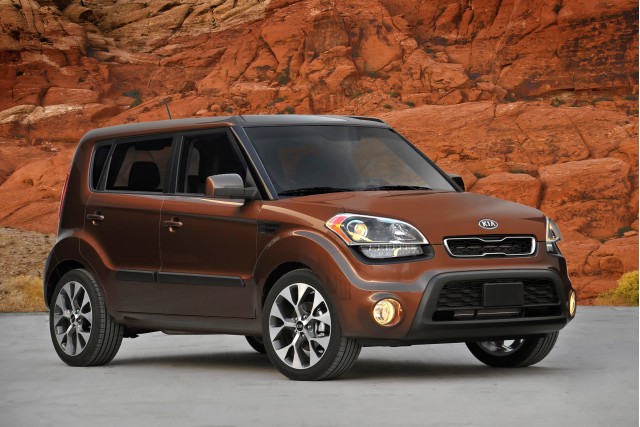 2012 Kia Soul
Enlarge Photo
2012 Kia Soul – If those cute hamsters in the TV commercials don't get your engine running, maybe the great passenger and cargo room in the 2012 Kia Soul will. With a starting price of just $13,900, the Soul is affordable, fun and definitely unique. There's ample seating for five passengers and plenty of cargo room at 19.3 cubic feet. With the 60/40-split folding rear seat down, there's 53.4 cubic feet of cargo capacity. The Soul also has innovative standard storage: an upper instrument panel storage bin, dual-level lighted glove box, front door map pockets with bottle holder and rear door bottle holder, and dual front cup holders.
2012 Honda CR-V Concept
Enlarge Photo
2012 Honda CR-V – A compact crossover that seats five passengers, the 2012 Honda CR-V receives a mild redesign for 2012 and goes on sale by the end of the year. The best-selling crossover in the United States and very popular with small families, the CR-V is also one of the most utilitarian crossovers available today. The photo released by Honda of the 2012 CR-V Concept gives a good look at what the fourth-generation model will look like on the outside. Honda promises that an all-new interior will be more accommodating and spacious with a lower cargo floor. The CR-V will also feature a more fuel-efficient engine. As for the current model, the 2011 CR-V not only features upper and lower glove compartments, an under-seat storage bin and retractable tray table, there's also a conversation mirror so the driver can check on the children in the backseat without having to turn around. Optional features that families love include a dual-deck storage shelf, a navigation system, and short roof box, roof rack and attachment for skateboard, ski, surfboard, bike and kayak.
2011 Toyota RAV4
Enlarge Photo
2012 Toyota RAV4 – Seating for seven in three rows is a good reason to look at the 2012 Toyota RAV4 compact crossover, although you'll probably have to wait a bit for it to come out, thanks to continuing delays caused by the March earthquake in Japan. You can, however, look at the current model and probably get a good deal. Granted, that third row in the RAV4 is fairly cramped and really only suitable for small children or adults in a pinch if you're only going a few miles, but the small crossover does have lots of cargo room, delivers car-like handling with the capability of an SUV, a responsive optional V-6 engine and good fuel economy. RAV4 features ten cup holders, a multi-function center console, a dual glove box, storage pockets in door panels and rear cargo area, and cargo-area under-floor storage compartment. Cargo volume is 73.0 cubic feet behind the first row, 37.2 behind the second row, and 12.3 behind the third row. A rearview camera and navigation are neat optional features.
Sign up for our free newsletter or follow us on Facebook or Twitter.