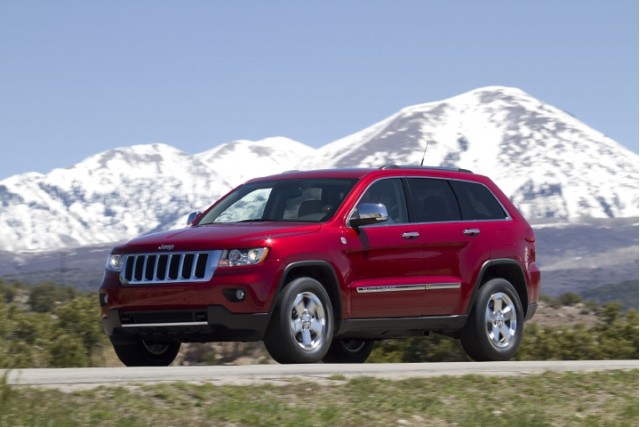 2011 Jeep Grand Cherokee
We've already reported that Chrysler is lowering prices on the 2012 Chrysler 200, the 2012 Dodge Avenger and the 2012 Dodge Journey, but the company's steepest drop appears to be on base 2012 Jeep Grand Cherokee models. In 2011, a base Jeep Grand Cherokee Laredo started at $30,215, but for 2012 that price drops to $26,995, a difference of $3,220.  In contrast, mid-level Limited models increase in price by $80 (from $36,715 to $36,795), while the top-line Overland models go up by $700 (from $38,795 to $39,495).
Why the substantial price alignment? Chrysler isn't saying yet, but we suspect it's looking to undercut the competition at the entry-level price point. The cheapest Ford Explorer you can buy is $28,170, which now makes it $1,175 more expensive than the Jeep. A Chevy Traverse starts at $29,370, which makes it $2,375 more than the Jeep. Even Toyota's Highlander, at a base price of $28,090, is now $1,095 more expensive than the 2012 Jeep Grand Cherokee Laredo.
You can't cut that much off the price without having a fairly substantial change in content. Chrysler isn't clear on what's been removed from the 2012 Jeep Grand Cherokee, but Kicking Tires reports that the standard power driver's seat is gone, replaced by a manual unit. Packages seem to cost more as well: leather seating, 18-inch wheels and the 506-watt audio system cost $4,000 in 2011, but the same package runs $5,300 in 2012. If you wanted to upgrade to the 5.7-liter V-8 in 2011, the package cost $5,495; the equivalent package for 2012 will run you $6,995.
Oddly enough, Chrysler isn't changing the base price of the similar 2012 Dodge Durango by nearly as much. The 2012 Dodge Durango will start at $28,795, which is just $200 less than the base 2011 model sold for.