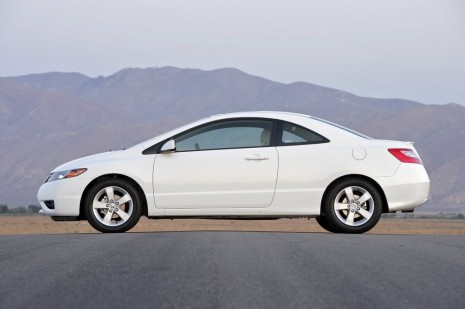 2006 Honda Civic Coupe
Enlarge Photo
2006 Honda Civic Coupe
In keeping with the two-door theme, consider a 2006 Honda Civic. Your budget is a little light to afford a 2006 Honda Civic Si, but $11,000 should buy you a clean 2006 Honda Civic LX Coupe, and you may even find a more upscale EX Coupe in your budget. The Civic was redesigned for 2006 to a body style very similar to what Honda is selling today, so the car won't look dated compared to others on out list (like the older Scion tC). Both the Civic LX and EX models are powered by a 1.8-liter four-cylinder engine, good for 140 horsepower and available with either a five-speed manual or five-speed automatic. The LX comes with 16-inch wheels, a CD player, cruise control and keyless entry, and the range-topping EX model adds more speakers, 17-inch wheels, a moonroof and a 60/40 split folding rear seat.
2007 Hyundai Tiburon
Enlarge Photo
2007 Hyundai Tiburon
The Hyundai of 2007 wasn't quite as industry-leading as the Hyundai of 2011, but the Korean automaker still turned out a solid product that delivered exceptional value for the money. In 2007, Hyundai's didn't get any sportier than the Tiburon Hatchback, and the Tiburon may just deliver more content for your dollar than any other car recommended above.  Base GS models came powered by a 2.0-liter four-cylinder engine, good for 138 horsepower and mated to either a five-speed manual or a four-speed automatic. Step up to the GT, GT Limited or SE models, and you'll get a 2.7-liter V-6 engine good for 172 horsepower. The Tiburon is best viewed as a "sporty" car and not a sports car (like your current MX-5), but it returns a bit more civility and a lot more practicality than you're used to.  You may have a hard time finding an SE or GT Limited within your budget, but we're pretty sure you can track down a GT model for under $11,000.