1997 Mazda MX-5 Miata M-Edition
We get a lot of reader mail at High Gear Media, and we're happy to report that very little of it involves threats of bodily harm. The most common question we get  involves the purchase of a replacement vehicle, and reader Sondi Moore has reached out to us seeking advice on a replacement for a beloved 1997 Mazda MX-5 Miata.
Sondi's car has racked up 200,000 miles on the odometer, and while it may not have any current problems, that's about the time when multiple systems start to fail. One week it's the clutch slave cylinder, followed by a pinhole leak in the radiator. Get those items fixed, and a wheel bearing is bound to fail. No matter how much affection you have towards a car, there's always a time to cut your losses and move on to a newer model.
Sondi has a limited budget as well, and can't spend more than $11,000 on reliable transportation. Still, that's a decent amount to work with, and Sondi wants another compact car that's fun to drive. With those primary factors in mind, below are the top five cars we'd recommend. Each is entertaining in its own way, each offers reasonable (or better than reasonable) handling and each can be found for less than $11,000 on the used market. 
2007 Mazda MX-5 Miata SV
 2007 Mazda MX-5 Miata
If you love your 1997 Miata, Sondi, you're really going to love the latest generation of Mazda's classic roadster. The third-generation MX-5 has all the charm of your first-generation car, but with more horsepower, more interior room, more trunk space and, unfortunately, more weight. While the first generation cars were less-than-ideal as daily drivers,  the latest generation manages to yield a better ride quality without sacrificing handling. Used examples are plentiful, and $11,000 is enough money to buy you a clean 2007 Mazda MX-5 Miata.
2004 Acura RSX Type S
2004 Acura RSX Type-S
We'll go out on a limb and assume you know how to drive a manual transmission. If that's the case, you'll want to look at the latest model Acura RSX Type-S you can find within you budget, but we suspect it'll be a 2004. The 2004 Acura RSX Type-S blended performance with a surprising amount of civility, but finding one that hasn't been thoroughly abused may prove difficult. Look for cars that haven't been "upgraded" to aftermarket exhausts, wheels or suspension kits by previous owners, since they're generally signs that the car has been driven hard. If you can find a clean example, your money will buy you hatchback functionality, Acura reliability and the thrill of a 201-horsepower four-cylinder engine and six-speed gearbox that loves to be wound out. If you can't drive a manual, or prefer the simplicity of an automatic for rush-hour commuting, opting for a Base RSX should allow you to get a newer car, maybe even a 2006. You'll lose out on the horsepower of the RSX Type S, but even base model RSXs produced 160 horsepower.
2007 Scion tC
2007 Scion tC
Few cars blend functionality, reliability and handling better than Scion's tC series.  In 2007, buyers could choose between the stripped-down Spec model, with its 16-inch wheels, glass roof and relatively plain interior; or the Base model, which came with 17-inch wheels, a sunroof and cruise control. Both models featured a 2.4-liter four-cylinder engine, good for 160 horsepower and mated to either a four-speed automatic or a five-speed manual gearbox. Used 2007 Scion tC Spec models should be well within your price range, and you may be able to find a 2007 Base models for under $11,000 if you look hard enough.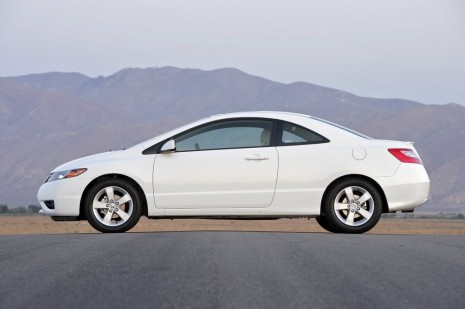 2006 Honda Civic Coupe
2006 Honda Civic Coupe
In keeping with the two-door theme, consider a 2006 Honda Civic. Your budget is a little light to afford a 2006 Honda Civic Si, but $11,000 should buy you a clean 2006 Honda Civic LX Coupe, and you may even find a more upscale EX Coupe in your budget. The Civic was redesigned for 2006 to a body style very similar to what Honda is selling today, so the car won't look dated compared to others on out list (like the older Scion tC). Both the Civic LX and EX models are powered by a 1.8-liter four-cylinder engine, good for 140 horsepower and available with either a five-speed manual or five-speed automatic. The LX comes with 16-inch wheels, a CD player, cruise control and keyless entry, and the range-topping EX model adds more speakers, 17-inch wheels, a moonroof and a 60/40 split folding rear seat.
2007 Hyundai Tiburon
2007 Hyundai Tiburon
The Hyundai of 2007 wasn't quite as industry-leading as the Hyundai of 2011, but the Korean automaker still turned out a solid product that delivered exceptional value for the money. In 2007, Hyundai's didn't get any sportier than the Tiburon Hatchback, and the Tiburon may just deliver more content for your dollar than any other car recommended above.  Base GS models came powered by a 2.0-liter four-cylinder engine, good for 138 horsepower and mated to either a five-speed manual or a four-speed automatic. Step up to the GT, GT Limited or SE models, and you'll get a 2.7-liter V-6 engine good for 172 horsepower. The Tiburon is best viewed as a "sporty" car and not a sports car (like your current MX-5), but it returns a bit more civility and a lot more practicality than you're used to.  You may have a hard time finding an SE or GT Limited within your budget, but we're pretty sure you can track down a GT model for under $11,000.