Dogs in the car [photo by John d'Addario]
Normally, the staff at High Gear Media write in the "royal we", but occasionally we offer suggestions from a very personal perspective. This is one of those times. 
A couple of months ago, as summer arrived, I put together a checklist of things to consider before taking a vacation with your pets. Of course, millions of folks prefer to leave their furry friends in the care of a kennel or trusted friend -- and that's just fine -- but for me, bringing the pets along is the only way to go.
However, taking a road trip with cats and dogs is a far, far cry from taking them to the vet or the city park. It requires a great deal of planning and forethought. Skip the strategizing, and the stress you'll encounter down the road will turn your "vacation" into real work.
My partner and I have four dogs, ranging in size from fairly old (12 years) to fairly young (1.5 years), and from very small (10 pounds) to very large (120+). As an added bonus, the youngest also happens to be the biggest. And in some wacky joke from the universe, he's also deaf.
This year, we decided to take all four of them with us on our vacation to Cape Cod -- which wouldn't be a big deal, except that we live in New Orleans, meaning 3,300 miles round-trip, or six long days of driving. We'd traveled shorter distances with The Hounds (as we call them, Monty Burns-style), but never anything this long. How would they do? And, more importantly, how would my partner and I do?
I'm happy to report that we all survived and that I picked up a few new tips along the way:
1. Restrain your pets: If you're traveling with a cat, this is a no-brainer: as great as cats can be, they're pretty iffy when it comes to spoken commands, so keeping them in a traveling cage will make things far simpler for all parties. But where dogs are concerned, people are a bit more lax. Ideally, you should crate your dogs during travel, but if that's not an option, consider harnessing them, or at the very least, creating a barrier between the back seat and the front. A recent study indicated that 65% of dog-owners had been distracted by their pets while traveling, and we all know what distracted driving can lead to. Be safe, not sorry.  
2. Keep the leashes on: There are probably a number of veterinary surveys that say this is a bad idea, but chances are those vets don't have "bolters" in their pack. We do, and on more than one occasion, the only thing that's kept him from darting out into the parking area of a rest stop has been my superhuman ability to nab his bright orange leash. I'm sure some will worry that keeping leashes on could be uncomfortable, but once the dogs settle down, they're likely to spend most of the road trip snoozing. As long as the leash isn't caught in the door or on something else that restricts their movement, they should be fine.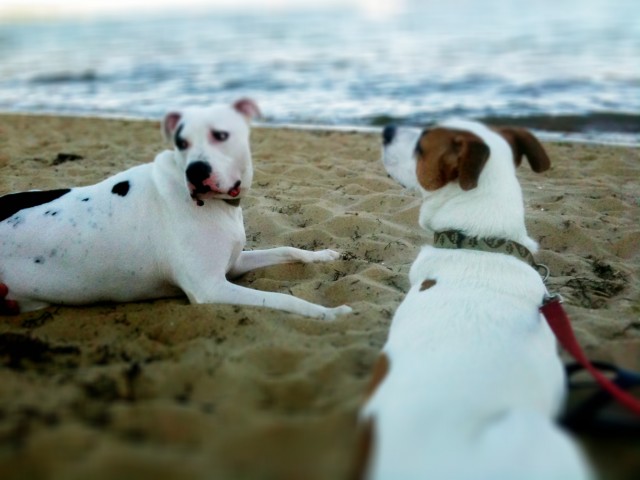 Dogs at the beach

3. Expect to be covered in fur: Unless you're the proud owner of a poodle or similar breed that doesn't shed, you're going to have fur all over your car -- lots of it. Don't get frustrated, and of course, don't get angry with your pup. Plan ahead by wearing sensible clothing -- no wool, no cashmere, and by all means, no fleece. Take the opportunity to cover up anything special, too. Though shoving your suitcase in a garbage bag may look trashy (no pun intended), it'll keep the bellhop from whipping out the lint brush when he sees your bags.
4. Use roof racks if possible: If you're traveling in an SUV, crossover, van, or station wagon, chances are fairly good that you've got a set of roof racks up top. Chances are also pretty good that you rarely use them. Now's the time to put 'em to work. I don't suggest putting anything irreplaceable up there -- keep prescriptions and piles of dough in the vehicle, just in case. But strapping less valuable objects to the rack will (a) keep them free of pet hair, and (b) make Rover a little more comfortable.  
5. Don't talk to your pets while on the road: This is a cardinal sin, and unfortunately, I break it all the time. Unless you frequently take your dog on road trips, she's going to be a little excited when she first gets in the car. Depending on her temperament, it could take from 10 to 30 minutes for her to relax and lie down. If you start speaking to her, though -- pointing out landmarks or explaining how long it's going to be until you reach the next rest area -- you're just going to wind her up again. As someone far wiser than me once said, let sleeping dogs lie. 
6. Center your vacation activities around pets: It stands to reason that if you're going to all the trouble of traveling with your pets, you ought to spend some time with them -- otherwise, why didn't you just kennel them at home? Do some research on sites like BringFido.com to find pet-friendly activities and attractions where you're staying. And when you do leave your pets alone in the room, be sure to offer them plenty of distractions like chew toys, scratching posts, treats, and such. It'll make them feel more at ease, and they'll be less apt to annoy the other hotel guests with nonstop barking until you get back from dinner.
If you've got additional pet vacation tips of your own, feel free to drop us a line, or leave them in the comments below.