Families that tow and haul need the right vehicle for the weekend, and some of the full-size SUVs on sale now could be just the right solution.
Aside from the usual full-size pickup trucks, some of the best vehicles for towing are these family-oriented SUVs:
Chevrolet Tahoe
With seating for up to eight and a maximum towing capacity of 8,500 pounds (in two-wheel drive, 8,200 pounds in four-wheel drive), the 2011 Chevrolet Tahoe (and sibling GMC Yukon) full-size SUV can handle almost any demands on the road and still carry everyone in comfort and style. The Vortec 5.3-liter V-8 engine is designed to tow, delivering 320 horsepower and 335 pound-feet of torque.
2011 Chevrolet Suburban
Enlarge Photo
Chevrolet Suburban
With its ability to carry up to nine passengers, the 2011 Chevrolet Suburban, in half-ton configuration, can also tow up to 8,100 pounds, making it a great all-around choice for families that pull their vacation fun along with them. The three-quarter-ton Suburban can tow a maximum of 9,600 pounds, besting the Ford Expedition and Nissan Armada by a few hundred pounds. Half-ton Suburbans are powered by the 320-horsepower 5.3-liter Vortec V-8 engine while three-quarter-ton models get the standard 352-horsepower 6.0-liter Vortec V-8.
2011 Toyota Sequoia
Enlarge Photo
Toyota Sequoia
The 2011 Toyota Sequoia can tow up to a maximum 6,900 pounds in two-wheel drive and 6,600 pounds in four-wheel drive with the 4.6-liter V-8 engine. It gets better, up to a maximum of 7,300 pounds in two-wheel drive and 7,100 pounds in four-wheel drive for Sequoia SUVs with the 5.7-liter V-8 engine. Buyers can choose from SR5, Limited and Platinum models, each with seating for up to eight passengers.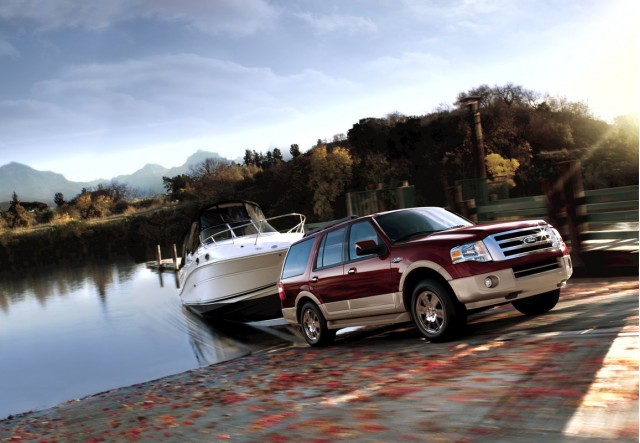 2011 Ford Expedition
Enlarge Photo
Ford Expedition
If you have a large boat, jet skis or a big trailer, the 2011 Ford Expedition full-size SUV could be a great option for towing and hauling. The basic Expedition in two-wheel-drive form can tow up to 9,200 pounds when equipped with the Heavy-Duty Trailer Tow Package. The Expedition EL has a maximum 8,900-pound towing capacity. Power comes from the standard 310-horsepower 5.4-liter V-8 engine paired with a six-speed automatic transmission.  
2011 Dodge Durango
Enlarge Photo
Dodge Durango
Tow up to 6,200 pounds with the 3.6-liter Pentastar V-6 engine or 7,400 pounds with the 5.7-liter HEMI V-8 in the 2011 Dodge Durango SUV. Both engines feature fuel saver technology. You'll need the applicable trailer tow group (V-6) or trailer tow group IV, both of which include Class IV receiver hitch, 7- and 4-pin wiring harness, full-size spare tire and steel spare wheel.
2011 Jeep Grand Cherokee
Enlarge Photo
Jeep Grand Cherokee
Powered by the same 3.6-liter Pentastar V-6 or 5.7-liter HEMI V-8 engines as the Dodge Durango, the 2011 Jeep Grand Cherokee SUV also has maximum towing capacity rated at 6,200 and 7,400 pounds, respectively – when properly equipped with the required trailer tow group. The trailer tow group is standard on Overland and Overland Summit models, and available on Laredo, Laredo X, Laredo X 70th Anniversary and Limited models.
2011 Mercedes-Benz GL550
Enlarge Photo
Mercedes-Benz GL550
For full-size SUV power and performance, and the capability of towing up to 7,500 pounds (with an optional Class IV trailer hitch kit), the seven-passenger 2011 Mercedes-Benz GL550 provides all that and more in a luxury package. The GL550 is powered by a 382-horsepower 5.5-liter V-8 engine paired with a seven-speed automatic transmission with paddle shifters.