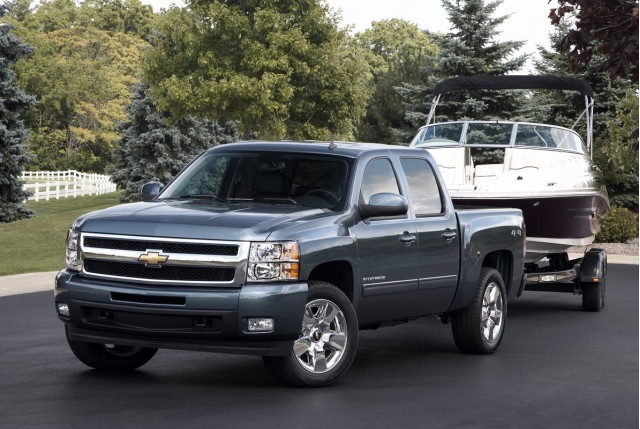 2011 Chevrolet Silverado 1500 LTZ
Ask any truck fan who has the highest towing capacity, and you're likely to get an answer that falls along brand affiliation lines. Ford guys will tell you that it's the F-Series trucks you want, while Chevy guys will tell you that nothing out-performs their Duramax Diesel. Ram fans won't be silent, since they're the first to point out the legendary commercial heritage of the Cummins turbo-diesel engine. Who's right?
Until now, there was no clear answer, since manufacturers were allowed to certify towing capacities based upon in-house testing. If one manufacturer gained an advantage, the others would simply "revise" their testing procedure to inflate their own numbers. In the absence of a standardized test approved by the Society of Automotive Engineers, it was impossible to say who had the best truck.
That changes in the near future, since leading manufacturers (including Toyota, GM, Ford and Ram) have agreed to adopt a newly drafted SAE test standard by the end of the 2013 model year. Robert Krause, a GM engineer who chaired the SAE committee designing the test, summed it up by saying, "We wanted our customers to know that 10,000 pounds of towing capacity means the same thing for all trucks."
The test is designed to be grueling, and includes acceleration tests, uphill towing in desert conditions and a stability component. It's likely that current tow ratings will decrease anywhere from a few hundred to a few thousand pounds, as Toyota has already learned. The automaker has begun using the new standardized test to rate the towing capacity of their full-size Tundra pickup. While the truck's towing capacity dropped, its viability in the eyes of hardcore truck buyers grew.
The new testing isn't mandatory, but that won't matter to those who use full size trucks as their designers intended. If a truck doesn't have the SAE test certification, these hard-core buyers won't even consider it.