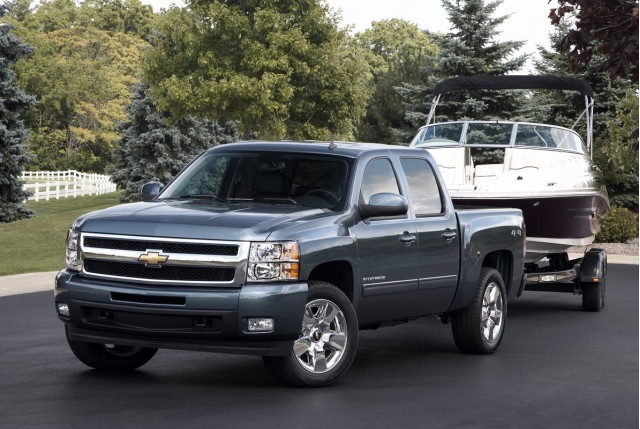 2011 Chevrolet Silverado 1500 LTZ
When General Motors planned production of pickup trucks for 2011, the automaker counted on a strong economic recovery to drive pickup sales to pre-recession levels. Given that pickups have higher margins than cars, that seemed like the best way to increase profits and drive up stock prices.
The problem is that the planned economic recovery hasn't happened, and truck sales aren't anywhere near the automaker's projections.
Jim Ellis Chevrolet, a metro Atlanta dealership, was stocked up on Silverado pickups by GM early this year. Sales haven't materialized, and the dealership is faced with over six months worth of inventory at current sales rates, a situation the dealership's general manager calls "a little scary."
GM currently has some 280,000 Silverado pickups on dealer lots, which translates into 122 days' worth of inventory.  That's not a concern for GM's vice president of U.S. sales, Don Johnson, who cites the complexity of the product line as justification for the larger inventory. Cars only come in a few configurations per model, so a "normal" inventory for a particular automobile would be 60 or 70 days. Because trucks come in more shapes, sizes and variants, Johnson sees 100 or 110 days' inventory as normal.
In defense of the current situation, Johnson told the Detroit Free Press, "We're managing the business to match production with demand in the marketplace. Nothing in the last few months that we have done would indicate any different."
Indeed, GM has idled truck plants in Michigan and Indiana through July 15 to address the inventory buildup, and further adjustments may be necessary to normalize inventory. Lower production is already planned for the second half of the year.
That's not enough to satisfy some critics, including Peter Nesvold, and industry analyst for Jefferies & Company. Nesvold points out that Ford is running at 79 days' inventory across their equally-complex pickup truck product line, and says that GM averaged just 78 days' inventory at year end from 2002 to 2010. In a research note, Nesvold goes so far as to ask, "Is GM falling into old, bad habits?"
The truth probably lies somewhere between the two extremes. GM's truck product line is overdue for a revamping, which isn't likely before the 2014 model year. With inventory high, it's likely that dealers are willing to negotiate on price, so if you're in the market for a GM pickup, there's no time like the present to cut a deal on one.