Imagine you're a small company that makes quirky but highly functional cars, beloved by niche buyers and increasingly successful in the broader market.
Twenty years ago, you'd have been Saab.
These days, you're Subaru.
Now imagine that your strong progressive image--and more than a decade of marketing in lesbian and gay media, among other accomplishments--has led a group of activists to target your company.
Targeted for progressiveness
The issue is the ongoing desire of women in Saudi Arabia to drive, a right that the Kingdom (unlike every other nation in the world) denies them on religious grounds.
Saudi Prince speaks out against ban on female drivers
Last Friday, a few dozen Saudi women took the wheel in a long-awaited day of protest.
Hundreds of their supporters around the world protested in various ways--both via social media and in Washington, D.C., circling the Saudi embassy in their cars.
Now a new front in the battle has opened.
44,000 online signatures
Yesterday, a group calling itself Saudi Women for Driving published a letter to the company in the form of an online petition asking that Subaru stop selling cars in Saudi Arabia until women can drive them too.
"While Subaru is marketed heavily at women," the letter charges, Subaru is "making millions" selling its cars in Saudi Arabia, where women "aren't allowed to drive--much less ride a bike, or go surf, run a triathlon, or ski on their own."
As of today, the petition counter said that more than 44,000 people had signed it.
The group says it is a "coalition of leading Saudi women's rights activists, bloggers and academics campaigning for the right to drive."
A few hundred a year
A spokesman for Fuji Heavy Industries, Subaru's parent company, was quoted by Bloomberg saying that the company's Saudi Arabian dealers sell fewer than 500 cars a year.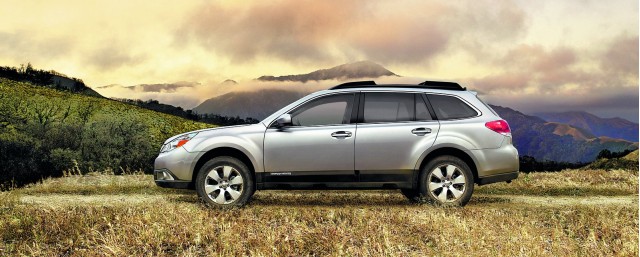 2011 Subaru Outback
The coalition says that while it plans to demand the same of other car companies, it has started with Subaru "due to the company's heavy marketing of the Subaru brand to women."
Mike McHale, communications director for Subaru of America, said that he was pleased the coalition recognized Subaru "as a progressive company," and that Subaru was "studying the situation."
He also said, however, that Subaru felt "this is a larger issue" that "needs to include all car makers that conduct business in Saudi Arabia."
Sometimes you can't win for losing, eh?
Hillary Clinton weighs in
Hillary Clinton
The release followed news on Tuesday that U.S. Secretary of State Hillary Clinton called the women's efforts to drive "brave," while emphasizing that the U.S. has no connection to the movement.
She called the protests "about Saudi women themselves" who were "acting on behalf of their own rights."
On Monday, a State Department spokesperson confirmed that Clinton had raised the topic of women driving during "quiet diplomacy" discussions with Saudi's Prince Saud.
The Saudi woman who organized Friday's protest, Manal Al-Sherif, had been arrested, twice, and held for nine days before she was released by the Kingdom's religious police.
The week before, six other women were arrested and interrogated on charges of driving cars.
There's been backlash, too. An Arabic-language Facebook group called "the Iqai Campaign" sprang up after the protest was first publicized, arguing vehemently against the right of women to drive and suggesting that women be whipped if they tried to do so.
Early this year, a speech against the ban by Saudi Prince Alwaleed bin Talal appears to have had little practical effect as yet.