While the launch of the all-new 2012 Honda Civic was slowed somewhat by the after-effects of the Feburary earthquake and tsunami in Japan, 2012 model cars are now in dealerships.
Gas mileage has gone up pretty much across the board, with the lowest figures of 22 mpg city, 31 mpg highway, and 25 mpg combined coming from the hot-rod 2012 Civic Si model.
2012 Honda Civic Si video walkaround
On the other end of the scale, the 2012 Honda Civic Hybrid earns the highest fuel efficiency numbers ever recorded by a modern-day Civic, checking in at 44 mpg times three. That's its rating on the city, highway, and combined drive cycles.
If, like many buyers shell-shocked at $4-per-gallon gas prices, you're most interested in the 2012 Civic's gas mileage, here's a single article that summarizes the fuel economy of all the models:
MILES PER GALLON: 2012 Honda Civic Gas Mileage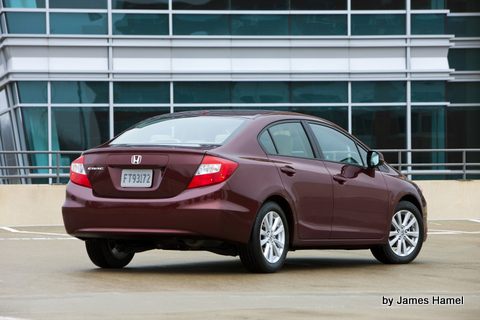 2012 Honda Civic
But because we've covered the 2012 Honda Civic on many High Gear Media sites, we thought we should put together this handy Ultimate Guide to absolutely everything we've written about the latest versions of Honda's best-selling compact sedan and coupe.
We've already driven the 2012 Civic on two separate occasions, driving all the different models during the media launch outside Washington, DC, and then spending several days throughout New York state with the 2012 Civic Hybrid model.
REVIEW: 2012 Honda Civic: First Drive Impressions
REVIEW: 2012 Honda Civic Hybrid: Multi-Day Drive Report
2012 Honda Civic Hybrid
But if you're not in the mood for long drive reports, we've also carved up our impressions into several short videos (none longer than 3 minutes).
Most of them were shot at the 2011 New York Auto Show, when the new 2012 Civic was formally unveiled to the world and to the car-buying public.
VIDEO: 2012 Honda Civic: Two-Minute Video Review Of New Sedan
VIDEO: 2012 Honda Civic: Video Rundown Of The Complete 5-Car Lineup
VIDEO: 2012 Honda Civic Hybrid: 44-MPG Compact's High Points

VIDEO: 2012 Honda Civic HF 41-MPG Model: NY Auto Show
VIDEO: 2012 Honda Civic Natural Gas: Video Of Alternative-Fuel Car
VIDEO: 2012 Honda Civic Si Walkaround
If you have questions about the 2012 Honda Civic line after all of this, leave them in the Comments below.
We'll do our best to answer them.