2011 Chevrolet Camaro SS Convertible
At the first hints of summer, after just a few sun-soaked days, it's tempting to put aside all your plans for a sensible new vehicle and instead go for one that tousles your hair a bit.
Trouble is, in shopping for a convertible, it's easy to lose sight about what happens come fall, or what you're going to have to live with year-round. Many of today's convertibles are actually quite easy to live with, and far more weathertight, quiet, and practical than those of the past. Yet with uncertainty over fuel gas prices, fuel expenses are what could come back to haunt you if you don't pay close attention.
Meanwhile, it's really not so hard to find a convertible that won't break the fuel budget; a number of roadsters such as the Nissan 370Z, BMW Z4, Infiniti G37 Convertible, and Porsche Boxster get EPA Combined figures that are well over the 20-mpg mark, while even the 2011 Ford Mustang V-6 Convertible gets a rating of 31 mpg highway (19 city).
But if miles per gallon and open air are two of your top priorities, you can do even better. To single out the convertibles with the highest gas mileage, we considered EPA Combined ratings. Read on to see which models do best, along with our comments about how they might fit into your summer dream:
2011 Smart Fortwo
Smart Fortwo Cabriolet
EPA fuel economy: 33 mpg city, 41 highway (36 Combined)
Take a look at the 2011 Smart Fortwo Cabriolet from some angles and you might not even think of it as a convertible. Truth is, that opening is so short that it feels more like an old-style T-tops arrangement, but there is nothing but open sky overhead. On the plus side, the Fortwo can park in spaces that would otherwise strictly be motorcycle territory, and it's very maneuverable at low city speeds. But for its size, the diminutive Fortwo is surprisingly thirsty, with an EPA rating that barely tops 40 mpg at a time when a number of much larger sedans can match it. Keep in mind that this convertible has an especially strong novelty factor; while driving a Smart—especially an open-air Smart—might feel thrilling initially, try to borrow one of these for a few days to really figure out if it's for you.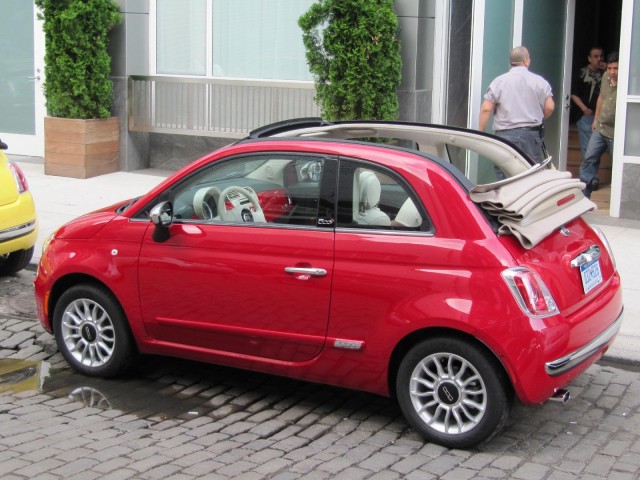 2012 Fiat 500C Cabrio, SoHo district, New York City
Fiat 500C Cabrio
EPA fuel economy: 30 mpg city, 38 highway (33 Combined)
The 2012 Fiat 500 is really, really cute—especially as a convertible. And it has some of the best design details of of the urban compacts plus a classy, somewhat retro interior. Yet it might not be all love at first sight; in initial drives, we've found the 500C to be fun (and a lot more engaging to drive than subcompact drudgery like the Toyota Yaris or Chevrolet Aveo) but cramped and noisy. The Fiat 500 Cabrio is not entirely a convertible by some definitions—it leaves the entire roofline silhouette intact and continuous but rolls back to open up the roof to the sky—but the payoff is that it's stiffer and quieter than full soft-top arrangements as in the Mini Cooper Convertible.
2011 MINI Cooper Convertible
MINI Cooper Convertible
28 mpg city, 35 highway (31 Combined)
The MINI Cooper Convertible is a joy to drive either in standard Cooper or turbocharged Cooper S variants, but in base Cooper Convertible guise you get excellent fuel economy. And with a power-folding cloth top that takes just 15 seconds to open or close, combined with a built-in sunroof, you can always get the right level of sun exposure (or weather-tightness) for the day. The 2012 Cooper Convertible is very well-equipped, and its quick-ratio steering and very compact dimensions makes it a great choice for the city, yet the Cooper is also a surprisingly strong highway trooper.
2011 Audi TTS Roadster
Audi TT Roadster
EPA fuel economy: 22 mpg city, 31 highway (26 Combined)
We're big fans of the second-generation TT, which made its debut a couple of years ago but is still a design trendsetter. Overall, it feels much more like a true sports car than the version that preceded it. Its turbocharged four-cylinder engines and dual-clutch gearbox, and more neutrally-tuned quattro all-wheel drive system, make the Audi TT Roadster very satisfying to drive—as well as a good all-weather choice for the rest of the season when the roads might turn slick. The TTS Roadster especially is a thrill to drive, with 54 more horsepower, a throaty exhaust note, and other performance and appearance upgrades—and it manages the same excellent fuel economy numbers as the TT.
2012 Volkswagen Eos
Volkswagen Eos
EPA fuel economy: 21 mpg city, 31 highway (25 Combined)
For those who want a comfortable cruiser convertible that's also safe, fuel-efficient, and fun to drive—but you're okay with looks taking second stage—the Eos is one of your best choices. Among convertibles, the 2011 Volkswagen Eos is hardly stunning or sexy; instead, it's handsome, nicely detailed, and definitely a bit more sensible than most drop-tops. Especially of note is its excellent retractable hardtop setup, which folds up or down in less than 25 seconds, and makes this model a great choice for the daily year-round commute as well as summer cruises. The Eos is no sports car, but it handles better than its conservative looks suggest, with an eager driving feel overall.
2011 Mazda MX-5 Miata
Mazda MX-5 Miata
EPA fuel economy: 22 mpg city, 28 highway (25 Combined)
The 2011 Mazda MX-5 Miata shows that you don't have to go fast or blow the family fuel budget to get top-down thrills. It isn't the sort of car you take cruising down the strip; rather, it's built to be driven top-down on tight, twisty canyon or mountain roads, where its tight steering response and rev-happy engine will put a smile even on those who usually need high horsepower. Ask serious enthusiasts who can afford cars with six-digit price tags to choose just a few cars they'd love to have in the garage, and chances are the MX-5 Miata would make the list. Simply put, no other car embodies that classic, lean roadster feel like the MX-5.