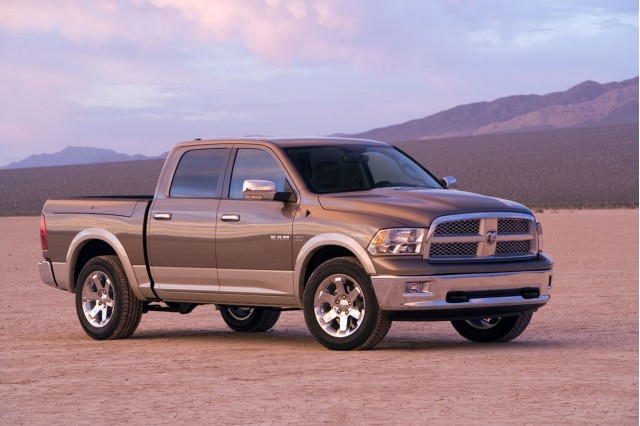 2010 Dodge Ram 1500
Chrysler has built a plug-in hybrid Ram pickup, but there's one catch: the trucks aren't for sale, and won't be coming to a dealership near you any time soon.
Instead, the hybrid Rams were built as part of a demonstration project to field-test hybrid systems under the worst possible conditions. The initial 10 hybrid Rams were delivered to the city of Yuma, Arizona, while future hybrid Ram batches will be sent to cities in California, Hawaii, Massachusetts, North Dakota, Texas and Missouri.
Ultimately, some 140 hybrid Ram pickups will be placed in the field as part of an joint program between Chrysler and the U.S. Department of Energy to collect data on battery thermal management, charging performance, fuel economy and hybrid performance under severe conditions.
Chrysler expects the trucks to rack up 6.5 million miles over the next three years, in environmental conditions ranging from desert heat to extreme cold.
The Ram 1500 PHEV pickups come with a liquid-cooled, 12.9-kilowatt-hour lithium ion battery pack and a 6.6-kilowatt on-board charger. The trucks can generate up to 6.6 kW of AC power, and the rear box has a single 240-Volt, 30-amp receptacle and a 120-Volt, 20-amp power strip.
Regenerative braking is used to supplement battery charging, and the front axle can be disconnected to boost fuel economy.  The electric power is supplemented by a 5.7-liter, Hemi V-8 engine using Chrysler's fuel-saving Multiple Displacement System technology. A two-speed hybrid transmission, from a previous electrification project at Chrysler, is the gearbox of choice.
Chrysler hasn't released data on range or performance, but they are absolutely clear about one point: this is strictly a demonstration program, and there are no plans for a production version of the Ram 1500 PHEV at this time.
[Chrysler]