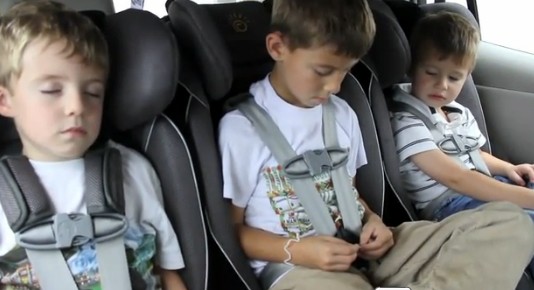 Will Kids' Seats Fit in the 2011 Nissan Leaf?
Enlarge Photo
Need help with child car seat installation?
You're not alone, according to the Injury Prevention journal study, which found that only 26.9 percent of parents installed a child car seat correctly. That leaves 73.1 percent – almost three out of four – parents either in the dark totally or doing it incorrectly.
When you need help, you have options:
You can hire someone to show you how to do it – with the goal of you being able to do it thereafter by yourself. This should be a child passenger safety technician (CPST). Expect to pay anywhere from $50 to $150 for the training. Safe Kids USA has a locator service for CPSTs on its site, and the organization also certifies technicians. So, this is a good way to go if you're looking to hire someone to show you how to install a child car seat correctly. NHTSA inspection stations are also listed on the Safe Kids USA site. Why go there? After you've learned how to install the car child safety seat, you can have your installation checked at the NHTSA inspection station – to ensure that you've got it right.
Get assistance online by going to the manufacturer's website for the car seat you've chosen. Most offer step-by-step installation guides for their products, including video.
Visit an installation clinic with CPSTs. The American Automobile Association (AAA) is teaming up with Dorel Juvenile Group, a manufacturer of car seats, to host installation clinics in 10 cities this summer. To find out where and when these clinics are being held, check your local AAA office.
In a quandary about which child car seat is right for your child and car? With so many choices available, figuring out what you need can be overwhelming. Take the worry out of the process by checking out the NHTSA's Ease-of-Use ratings for various child seats. NHTSA uses a five-star rating system that can help you evaluate your car seat options.
Which car seat is right for your child?
The best answer to this is that the right car seat for your child is the one that best fits your child and your car – and the one that you'll use the correct way each time.
Since choosing the appropriate car seat is such a perplexing dilemma for many parents, particularly first-time parents, there is good news.
The NHTSA and automakers are working together on a voluntary program to help parents know which car seats work best in which car models. Unfortunately, that program is probably not going to be a reality for at least a year. But Nissan is out in front with their Snug Kids Safety Seat Fit Guide, which lists car seats that work best in each of their cars, minivans, SUVs and trucks.
[Edmunds, NHTSA, American Academy of Pediatrics, Safe Kids USA, Nissan]
______________________________________