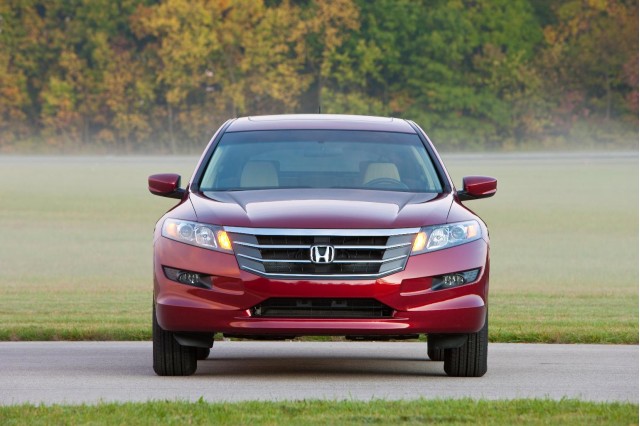 2010 Honda Accord Crosstour EX
There are cupholders in all four doors, two in the central tunnel area and two in the rear, pulldown armrest.   There is air flow for the rear seat passengers, a nice touch by Honda, and seat pockets for storage.  The central covered storage/armrest area in the front area of the cabin has a removal tray, 12-volt plug, auxiliary and USB plugs.  There are two seat memories for the driver's chair which has lumbar support but very little lateral assistance.  The front passenger seat has power operation.
The covered hatch area is commodious to say the least - it has 25.7 cubic feet of storage with the seats up that expands to 51.3 cubic feet with rear seats folded.  I particularly like the fact that the carpeted area can be easily reversed to rubber-topped so that the cargo hold is easy to keep clean.  There's also plenty of subfloor storage.
Families may find the 2011 Honda Accord Crosstour a worthy addition to the garage area; I just wish it were more Honda-like in terms of agility and concessions to comfort and convenience for the driver.  The last "real" Honda car built is, I believe, the late S2000 roadster, which exemplified the simplicity of Honda cars from the past and pointed toward the fun of driving in the future.  Unfortunately, the Accord Crosstour is a bit too bland for my taste.
© 2011 Anne Proffit