With gas prices hovering in the mid- to high-$4-per-gallon territory in many parts of the country, consumers looking for more fuel-efficient cars for family members that don't break the bank have some excellent choices. These eight fuel-sipping new cars all check in with a base price of less than $25,000: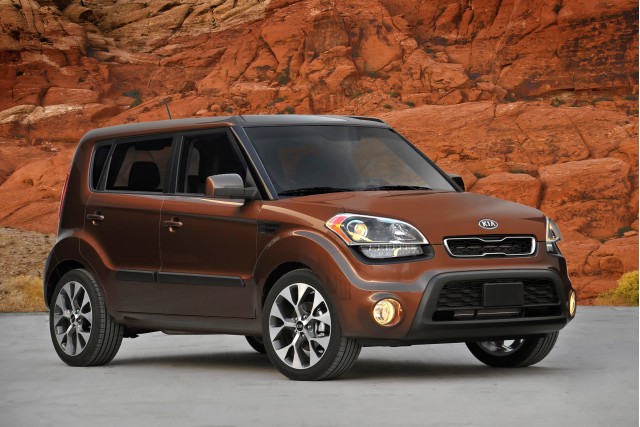 2012 Kia Soul
Enlarge Photo
Kia Soul -- Personality-plus, low starting price of $13,300, and 31 mpg highway fuel economy add up to the top spot on our fuel-sipper new cars for under $25,000 list. There's also the optional 142-horsepower 2.0-liter four-cylinder engine that gets 30 mpg highway that starts at $15,495. The Insurance Institute for Highway Safety (IIHS) named the Kia Soul a Top Safety Pick for 2011. Note the photo is of the 2012 Kia Soul, which gets a more powerful engine and even better fuel economy for the next model year.
2012 Ford Fiesta customization pack
Enlarge Photo
Ford Fiesta – The second least-expensive fuel sipper on our list, the 2011 Ford Fiesta subcompact starts at $13,320, and it gets 29 mpg city/38 mpg highway. For even better highway fuel economy, choose the Fiesta with the available SFE package that gets 40 mpg highway and starts at $14,520 (SE sedan) and $15,520 (SE hatchback). The Fiesta sedan and hatchback are IIHS Top Safety Picks.
2011 Nissan Cube
Enlarge Photo
Nissan Cube – Also an IIHS Top Safety Pick, the 2011 Nissan Cube, which starts at $14,740, is economically priced and fuel-efficient. The 122-horsepower 1.8-liter four-cylinder engine delivers an estimated 27 mpg city/31 mpg highway.