It's a milestone. The Insurance Institute for Highway Safety (IIHS), in its first-ever U.S. crash tests of mainstream electric cars, has awarded Top Safety Pick designation to the 2011 Nissan Leaf and 2011 Chevrolet Volt, both all-new plug-in electric cars.
Leaf and Volt earn the Institute's top award for state-of-the-art crash protection with the highest rating of "Good" in front, side, rear, and rollover crash protection, plus standard electronic stability control.
Consumers who may be sitting on the sidelines wondering if going hybrid is right for them now have the added assurance that plug-in electric cars like the Nissan Leaf and Chevrolet Volt are just as safe as gasoline-powered cars on the Institute's Top Safety Pick list for 2011 – which now numbers 80 vehicles and includes seven hybrids.
Joe Nolan, IIHS's chief administrative officer, says, "What powers the wheels is different, but the level of safety for the Volt and Leaf is as high as any of our other top crash test performers."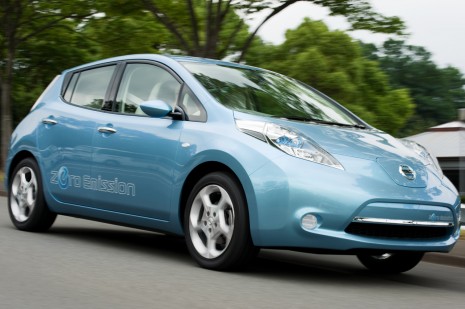 2011 Nissan Leaf
Enlarge Photo
2011 Nissan Leaf
The 2011 Nissan Leaf is an all-electric vehicle that runs on battery power alone. Leaf has an Environmental Protection Agency (EPA) estimated average range of about 73 miles on a single charge, although Nissan claims Leaf will go up to 100 miles.
Including the Leaf, Nissan/Infiniti now has three models awarded Top Safety Pick status. The others are the Nissan Cube and Infiniti M37/M56.
2011 Chevrolet Volt
Enlarge Photo
2011 Chevrolet Volt
The 2011 Chevrolet Volt is a plug-in battery/gasoline hybrid – Chevrolet calls Volt an extended-range electric vehicle – that can run in electric-only mode for about 35 miles on a single charge. After that, a gasoline engine works with the electric motors to power the vehicle for an extended range of up to 375 miles before plug-in to recharge or fill-up with gasoline.
With the addition of the 2011 Chevrolet Volt, General Motors has a total of 12 vehicles on the IIHS Top Safety Pick list. Other Chevrolets on the list include the 2011 Cruze, Malibu, Traverse and Equinox. Buick has three: LaCrosse, Regal and Enclave. Cadillac and GMC each have two: 2011 Cadillac CTS sedan and SRX, and 2011 GMC Acadia and Terrain.
Why they're safe
Although classified as small cars, with overall length, width, and passenger capacity similar to other small cars, the Leaf and Volt carry hefty battery packs which result in curb weights in line with mid-size and large cars, says the IIHS. The Nissan Leaf weighs about 3,370 pounds while the Chevrolet Volt is about 3,760 pounds. Compare this to the mid-size Nissan Altima, at about 3,200 pounds and the Chevrolet Impala large car at about 3,580 pounds.
IIHS's Nolan says, "The Leaf and Volt's extra mass gives them a safety advantage over other small cars. These electric models are a win-win for fuel economy and safety."
One final point that's noteworthy about the Volt and Leaf also comes from Nolan who says, "Eco-minded drivers keen on switching to electric would do well to buy a Leaf or Volt for highway driving instead of a low-speed vehicle if they're at all concerned about being protected in a crash."
Want to stay in-the-know on FamilyCarGuide news? Sign up for our free newsletter or follow us on Facebook or Twitter.
[IIHS]