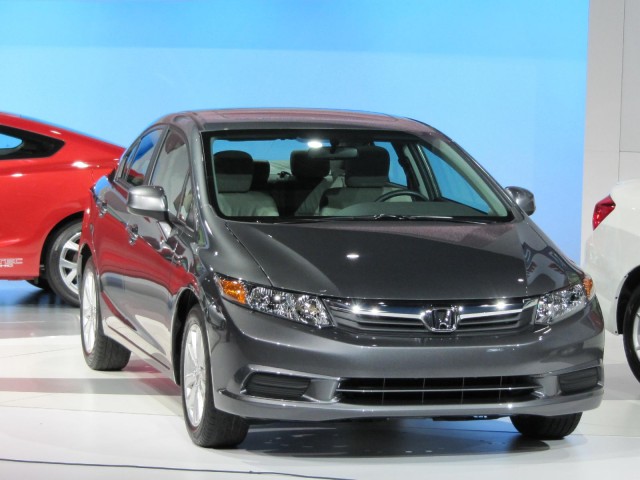 2012 Honda Civic launch, New York Auto Show, April 2011
Enlarge Photo
Accommodation is adequate in the four-door, but definitely tight in the 2012 Civic Si coupe. With a more steeply angled windshield, the dash extends considerably into the cabin, and there's simply not enough legroom for anyone over 6 feet. Our 6'5" codriver found his head actually touching the headliner.
Civic buyers by now will be used to the two-level dashboard design, into which Honda has integrated vastly improved infotainment displays. A multi-directional button on the steering wheel, similar to the "Touch Tracer" controls on the Toyota Prius, lets the Civic driver navigate through a logical sequence of menus while keeping hands firmly on the wheel.
The downside of the 2012 Civic, however, is the rest of the dashboard. At a media preview, virtually every reviewer commented on the hard plastic surfaces on the top of the dash.
2012 Honda Civic launch, New York Auto Show, April 2011
Enlarge Photo
A visible join line between the two large moldings that make up the dash top is the kind of cost-cutting you almost never see in new cars these days. And the central area of the dash on 2012 Civics without navigation fitted is a large swatch of flat gray plastic, with no texture or accent lines.
Everything in the 2012 Civic works fine, and it remains a joy to drive, but compared to the two-tone coloring and highly designed dash designs of cars like the 2011 Elantra and the 2011 Chevrolet Cruze, the new Civic comes off second-best.
All models of the 2012 Honda Civic except the Natural Gas version are available in Honda dealers starting today. The lowest-priced model, the Civic DX, starts at $15,605.
+++++++++++