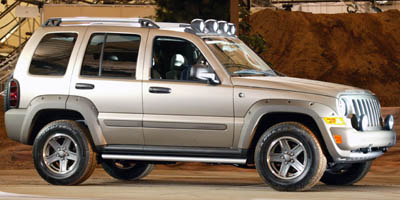 2006 Jeep Liberty Renegade
The last time you could walk into a Jeep dealership anywhere in the U.S. and put money down on a diesel-powered vehicle was 2006 (although the diesel Grand Cherokee was sold in regions of the U.S. until 2009). By 2007, tighter emission regulations forced Chrysler to kill off their Common Rail Diesel (CRD) engine option for the Liberty, and U.S. automakers have since taken the stance that "Americans don't like diesels." If that were true, Volkswagen dealers would have a hard time moving TDI models, and the Audi A3 TDI wouldn't have accounted for 53 percent of 2010 Audi A3 sales in the United States.
The real issue is cost, both in making new diesel engines comply with current U.S. emission standards, and in pricing diesel-equipped vehicles for the U.S. market. Manufacturers prefer the path of least resistance to achieve greater fuel economy, which appears to be the parallel hybrid.
Jeep may be warming up to the idea of reintroducing diesel engines to their lineup, however. Michael Manley, Jeep's president and CEO, recently admitted that that the company could offer diesel engine options for selected models within three years. The stumbling block, according to Manley, is the higher price tag associated with diesel engines.
That didn't stop Jeep Liberty buyers from snapping up some 10,000 CRD-equipped Liberty models when the SUV was launched in 2005, and we suspect there's significant pent-up demand for a diesel-powered SUV in the U.S. market.
As for the economics, it comes down to simple math: diesel in the U.S. is currently selling for about six percent more than unleaded gasoline, yet a diesel engine is some thirty percent more fuel-efficient than a comparable gasoline engine in the same vehicle. Factor in the diesel engine's longer life span, and the appeal isn't hard to see.
Unless, of course, you're a domestic automaker.