Yep, it's April Fool's Day. And many of our colleagues have labored long to bring you lovingly crafted parody stories.
Even an automaker or two has been known to take part, though the battalions of legal beagles haunting the halls of the larger ones tend to put a stop to that.
But here's our (undoubtedly incomplete) list of the ones we saw, both on the web at large and a handful that may have eluded the editorial overseers here at High Gear Media.
Introducing the World's Coolest, Super-Secret, Supercar!
Bloomberg's fast-and-pricey-car correspondent, Jason Harper, was spirited away to a secret Albanian garage for a quick peek (no drive, damnit) at the top-secret, insanely fast, jaw-droppingly gorgeous, ultra-expensive Fab-Veloce CPA-MMTL 16W (photo above).
First Look: 2012 Cadillac DRW Platinum Heavy-Duty Pickup Truck
2012 Cadillac DRW Platinum Heavy-Duty Pickup Truck
Enlarge Photo
It's been widely noted that luxury vehicles and pickup trucks are two segments of the auto market for which sales have come roaring back.
Newly nimble post-bankruptcy General Motors is taking advantage of that phenomenon by extending the Cadillac brand into the heavy-duty pickup truck market.
PickupTrucks.com has the first details.
GMI Spied! 2013 Chevrolet Volt "ET" Truck!
2013 Chevrolet Volt E-Truck spy shot [courtesy GMInsideNews]

Enlarge Photo
The intrepid crew over at GMInsideNews.com got their rectangular-blue-logo hands on a single spy photo that answers the electric-car question of the year: What will be the next vehicle to use the range-extended electric Voltec powertrain now that the 2011 Chevy Volt has proven so popular?
Contrary to reports that it'll be a badge-engineered Buick Volt, the next Voltec vehicle is actually a Volt-derived pickup, known by the snappy model-name moniker of E-Truck.
Exclusive First Look: 2012 Chevrolet Volt Convertible
2012 Chevrolet Volt convertible [image courtesy of Road & Track]
Enlarge Photo
GMI's spy photo appears to conflict with an earlier report from traditional buff-book Road & Track, which scooped other outlets with an exclusive first look at a two-door drop-top version of the Chevrolet Volt that's scheduled to be unveiled at the New York Auto Show just three weeks hence.
Slightly less ungainly than other cabrios cut from four-door cloth, the 2012 Volt convertible will sacrifice some electric range for an immeasurable increase in wind-in-the-hair, bugs-in-the-teeth driving-glove glory.
We are skeptical, however, of the reported price, a mere $2,000 over the sticker for the standard five-door hatchback Volt. We suspect GM spokesperson Taylor Wildwood may have been slurring words at the seedy Manhattan strip club where writer Nick Kurczewski frequently conducts his one-on-one interviews.
Breaking: EPA Mandate Forces Carmakers To Use Only Round Letters For Better MPGs
U.S. Environmental Protection Agency adminstrator Lisa Jackson and President Barack Obama

Enlarge Photo
We know from experience that we usually get only 15 minutes' notice of U.S. Environmental Protection Agency webcasts.
This one was no exception, as our writer Nelson Ireson joined it just as EPA administrator Lisa Jackson got to the good stuff.
After exhaustive engineering analysis, the agency plans to issue regulations forbidding use of any vehicle badges, identification, or chrome trim with non-rounded letters, to save gasoline through aerodynamic drag reduction.
Oil Giant BP Develops Battery Cell You Can Refill At The Pump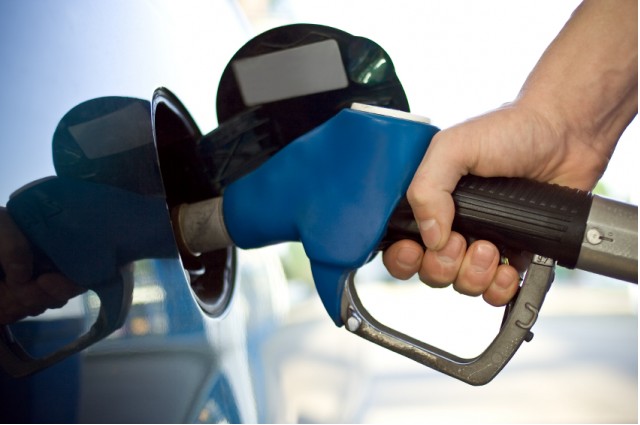 Gas pump
Enlarge Photo
First of a pair of new-technology stories, both of them involving the increased cross-flow of design ideas and technology solutions between the hybrid and electric-car world and the established gasoline-powered sector.
This one covers research work by oil and gas giant BP, which already supplies cell separators to battery makers. They are developing a new liquid electrolyte that can be pumped into a new battery design, speeding the recharging process by almost a factor of 50.