Yep, it's April Fool's Day. And many of our colleagues have labored long to bring you lovingly crafted parody stories.
Even an automaker or two has been known to take part, though the battalions of legal beagles haunting the halls of the larger ones tend to put a stop to that.
But here's our (undoubtedly incomplete) list of the ones we saw, both on the web at large and a handful that may have eluded the editorial overseers here at High Gear Media.
Introducing the World's Coolest, Super-Secret, Supercar!
Bloomberg's fast-and-pricey-car correspondent, Jason Harper, was spirited away to a secret Albanian garage for a quick peek (no drive, damnit) at the top-secret, insanely fast, jaw-droppingly gorgeous, ultra-expensive Fab-Veloce CPA-MMTL 16W (photo above).
First Look: 2012 Cadillac DRW Platinum Heavy-Duty Pickup Truck
2012 Cadillac DRW Platinum Heavy-Duty Pickup Truck
It's been widely noted that luxury vehicles and pickup trucks are two segments of the auto market for which sales have come roaring back.
Newly nimble post-bankruptcy General Motors is taking advantage of that phenomenon by extending the Cadillac brand into the heavy-duty pickup truck market.
PickupTrucks.com has the first details.
GMI Spied! 2013 Chevrolet Volt "ET" Truck!
2013 Chevrolet Volt E-Truck spy shot [courtesy GMInsideNews]
The intrepid crew over at GMInsideNews.com got their rectangular-blue-logo hands on a single spy photo that answers the electric-car question of the year: What will be the next vehicle to use the range-extended electric Voltec powertrain now that the 2011 Chevy Volt has proven so popular?
Contrary to reports that it'll be a badge-engineered Buick Volt, the next Voltec vehicle is actually a Volt-derived pickup, known by the snappy model-name moniker of E-Truck.
Exclusive First Look: 2012 Chevrolet Volt Convertible
2012 Chevrolet Volt convertible [image courtesy of Road & Track]
GMI's spy photo appears to conflict with an earlier report from traditional buff-book Road & Track, which scooped other outlets with an exclusive first look at a two-door drop-top version of the Chevrolet Volt that's scheduled to be unveiled at the New York Auto Show just three weeks hence.
Slightly less ungainly than other cabrios cut from four-door cloth, the 2012 Volt convertible will sacrifice some electric range for an immeasurable increase in wind-in-the-hair, bugs-in-the-teeth driving-glove glory.
We are skeptical, however, of the reported price, a mere $2,000 over the sticker for the standard five-door hatchback Volt. We suspect GM spokesperson Taylor Wildwood may have been slurring words at the seedy Manhattan strip club where writer Nick Kurczewski frequently conducts his one-on-one interviews.
Breaking: EPA Mandate Forces Carmakers To Use Only Round Letters For Better MPGs
U.S. Environmental Protection Agency adminstrator Lisa Jackson and President Barack Obama
We know from experience that we usually get only 15 minutes' notice of U.S. Environmental Protection Agency webcasts.
This one was no exception, as our writer Nelson Ireson joined it just as EPA administrator Lisa Jackson got to the good stuff.
After exhaustive engineering analysis, the agency plans to issue regulations forbidding use of any vehicle badges, identification, or chrome trim with non-rounded letters, to save gasoline through aerodynamic drag reduction.
Oil Giant BP Develops Battery Cell You Can Refill At The Pump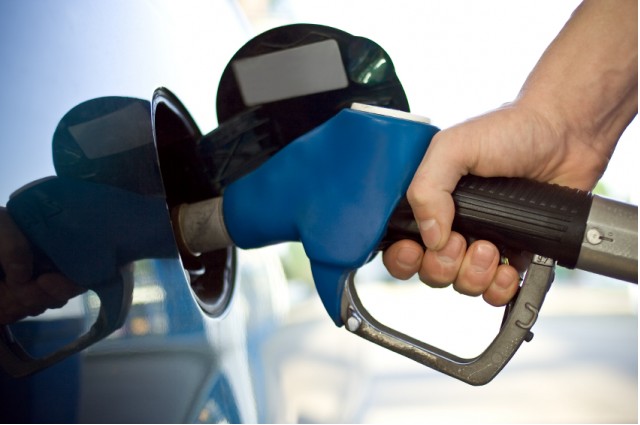 Gas pump
First of a pair of new-technology stories, both of them involving the increased cross-flow of design ideas and technology solutions between the hybrid and electric-car world and the established gasoline-powered sector.
This one covers research work by oil and gas giant BP, which already supplies cell separators to battery makers. They are developing a new liquid electrolyte that can be pumped into a new battery design, speeding the recharging process by almost a factor of 50.
Ford F-150 fuel tank, similar to those NuTankX expects to swap
Startup Offers Gasoline-Tank Swaps Derived From Electric-Car Concept
The BP concept adapted a gasoline tradition to electric-car use, but a second innovation goes the other way round, adapting a radical concept from the battery electric universe to the much greater number of gasoline-fueled vehicles out there.
Silicon Valley venture-funded startup NuTankX is already prototyping a network of gasoline-tank swapping stations, created by adapting the vehicle hoists already in place at smaller independent repair garages.
Charlie Sheen Shifts To An Even Smaller Screen--As An App Developer
Screencaps from the Sheen's Ravines app
We have to view every Sheen post with skepticism, but at the same time, it's what makes them all plausible. So the notion that the allegedly erratic star with alleged substance-abuse issues and family-relations concerns is now a smart-phone app developer makes ... perfect sense.
Cheekily titled Sheen's Ravines, after the episode in which two of his pricey luxury cars were allegedly stolen and ended up in ravines near his house, the app helpfully identifies the nearest steep cliff, unfenced hillside, water hazard, swimming pool, or other location where you can quickly ditch a car that's become a problem. Winning.
Look, Ma, No Hands! Ford Gets KINECT'ed
Ford CEO Alan Mulally at introductory press event for MyFord-Sync-Kinect
Ford just keeps piling it on, with the dizzying pace of infotainment-integrated system rollouts flying by at ... well, Internet speed. From SYNC just three years ago to the 2011 MyFord Touch voice-free vehicle systems control application, the blue oval is operating at warp speed squared.
Their latest advance for the 2012 model year is to add KINECT, the Microsoft motion-sensing game device, to the driver's seat. This way, simple motions can control complex functions. It sounds complex, but the press-release text makes it all crystal-clear:
Tilting the virtual wheel forward will accelerate the vehicle, adjusting output signals to the advanced engine management system to maximize vehicle fuel economy. Tilting the wheel back will decelerate the vehicle, utilizing engine braking or the antilock brake system as the system determines the optimal deceleration parameters based on Gesture Wheel inputs. Turning your hands as if turning the wheel will turn the vehicle, as naturally and intuitively as older direct-interface systems.
TrueCar Reports Data On New Hyper-Efficient Fuel Additive, Urenol
null
With shrieking over ethanol in gasoline all the rage, most recently the House vote to block the EPA's approval of E15 for 2001 and newer cars, the question of fuel additives is much on our minds.
TrueCar's story on the additive urenol is based on data leaked by a former employee of the Finnish company Bla Där Teknology, so it's always good to consider the angle that the information stream is coming from. 
Nonetheless, the urea (urine) based additive is said to react with the complex chemical bonds found in gasoline, to sever and then replicate them with added energy content. The idea, TrueCar says, is to allow money that would otherwise be spent buying gasoline to "trickle back into users' pockets."
Obama Administration To Dissolve Small Independent Automobile Manufacturers
Barack Obama
Stories about industrial policy rarely get a lot of traffic, so we're not surprised this one slipped under the radar.
The initiative, to be known as the "Automaker Production Refinement and Improvement Legislation Act of 2011," was announced in a mid-morning press briefing at the White House, but was largely ignored by a media corps seemingly more interested in the president's views of Supreme Court Justice Scalia's recent 4-car auto accident.
We tried to reach small automotive startups Aptera, Coda, Fisker Automotive, and Tesla Motors for comment, but no one responded by our printing deadline.
Borg Warner Announces Hundreds of Workers To Be Offered Fritos
Borg Warner headquarters
The shock waves from the stunning (and non-April Fool's) coup engineered by the newly Arianna-ized AOL, whose Autoblog unit silently engineered a swift takeover of detested rival Jalopnik, are still reverberating through the auto-media world. Or blogosphere, as Ms. Huffington used to say.
But the first day's output from the newly renamed Autoblognik brings some stability, journalistic standards, and generally high-quality writing to the gutter journalism practiced by self-proclaimed "big, saucy, Hebrew minx" Ray Wert, whose sniveling, self-pitying departure note sent cheers of jubiliation through the greasy caves of his former underlings and serfs.
This story on sensible personnel actions at solid Tier One supplier Borg Warner marks, we hope, a return to proper journalism of the kind practiced most effectively in print publications--the sort at which online writers aspire one day to be employed. Especially daily newspapers.