Intellichoice, part of the Motor Trend Market Group, recently announced its 2011 Best Overall Value of the Year Awards. Toyota and its luxury brand Lexus dominate the list with 11 wins (seven for Toyota and four for Lexus) in 21 categories. Why is it important to look at overall value when shopping for a car? Quite simply, a new family car purchase is – or should be – more than just a low purchase price.
Consumers shopping for a new family car in today's market need to be smart about their choices. Not only is money a precious commodity, needing to stretch a lot farther than a couple of years ago, but there's still uncertainty over the economy, the oil situation, jobs, housing market and a whole lot more. Bottom line: savvy consumers will look at more than just a car's purchase price and consider long-term ownership costs in any new-car purchase decision.
Here are the winners in each of the 21 categories in the Intellichoice 2011 Best Overall Value of the Year Awards. They are grouped according to manufacturer, with multiple category winners listed first. Beside the eleven first-place wins for Toyota/Lexus, Volvo, General Motors and MINI each won two, while four other automakers each won one. Three of the 21 are new winners this year, and three are consistent winners.
Toyota
With an overall seven wins, Toyota is far ahead of its luxury division, Lexus with four. Two of the Toyota models, the 2011 Toyota Prius and 2011 Toyota Sienna are consistent winners in their respective categories. Higher resale values propelled all of the Toyota models to rise to the top of their respective classes.
2011 Toyota Prius
Enlarge Photo
2011 Toyota Prius – Passenger car – High resale value, low costs for fuel, and low maintenance and repair costs stand out for this consistent Intellichoice winner. For more information on the 2011 Toyota Prius, see this review in TheCarConnection.
2011 Toyota Avalon
Enlarge Photo
2011 Toyota Avalon – Premium passenger car – The roomy, full-size sedan scores high with low fuel costs in addition to high resale value.
2011 Toyota Sienna Limited
Enlarge Photo
2011 Toyota Sienna – Minivan – Redesigned for this model year, the 2011 Toyota Sienna is another consistent Intellichoice winner. With seating for seven and the only one with available all-wheel drive, many reviewers consider the Toyota Sienna the best minivan in the market. Read TheCarConnection review of the 2011 Toyota Sienna here.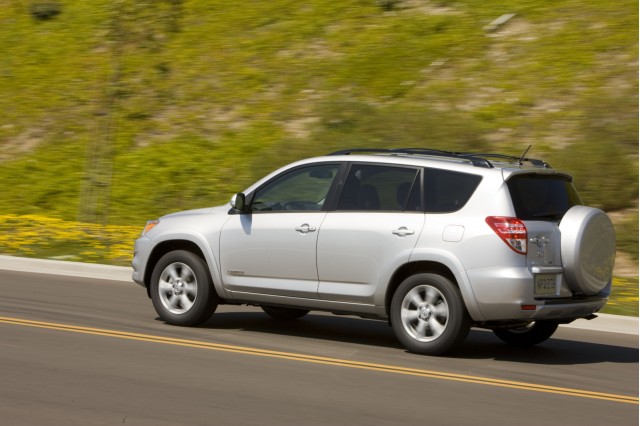 2010 Toyota RAV4
Enlarge Photo
2011 Toyota RAV4 – Compact crossover/wagon – The four-cylinder version is a better overall value than the V-6-powered model and the 2011 Toyota RAV4 wins in its category thanks to low fuel costs (as well as high resale value).
2010 Toyota 4Runner Trail
Enlarge Photo
2011 Toyota 4Runner – SUV – Moving up from third place in last year's awards, the 2011 Toyota 4Runner benefits from improving residual value and low maintenance costs.
2011 Toyota Tacoma
Enlarge Photo
2011 Toyota Tacoma – Compact pickup – Long the leader in compact pickup sales, the first-place win in this category by the 2011 Toyota Tacoma is not a big surprise.
2010 Toyota Tundra
Enlarge Photo
2011 Toyota Tundra – Full-size pickup – In the light-duty full-size pickup category, the 2011 Toyota Tundra pickup, while it may not be as capable as the Ford F-150 or Chevrolet Silverado 1500 competitors, sells in much lower numbers. This contributes to its higher value over time according to Intellichoice.