Six-foot drivers looking for an affordable small car that is also comfortable enough to accommodate their needs for head room and leg room have several good choices in these 2011 – and one 2012 -- models. And, should your passengers also be on the tallish side, some of these picks are equally accommodating for them.
2011 Hyundai Elantra
Sporting the fluidic design of the larger Sonata, the redesigned 2011 Hyundai Elantra compact sedan offers great performance, excellent fuel economy (EPA-estimated at 29 mpg city/40 mpg highway), and impressive features. Best of all, it's especially roomy and comfortable for tall/large drivers. Head room front/rear is 40.0/37.1 inches. Leg room front/rear is 43.6/33.1 inches. Elantra also has available front and rear heated seats – a segment first, along with other premium options. Available in GLS and Limited models, the starting manufacturer's suggested retail price (MSRP) is $14,830. Read more about the 2011 Hyundai Elantra in this review.
2011 Nissan Leaf
A somewhat surprising choice as an affordable small car for six-footers is the all-new, all-electric 2011 Nissan Leaf. Although it carries a starting MSRP of $32,780, after tax incentives of $7,500, it nets out at $25,280. A four-door hatchback, the Leaf can carry five passengers. The front seat is roomy enough for six-footers, but the back will probably be a bit cramped. That's due to the battery that raises the floor's height. Nissan says the head room front/rear is 42.2/37.3 inches. As for leg room, it's 42.1 inches in the front and 31.1 inches in the rear. See why The Car Connection editors give the 2011 Nissan Leaf an 8.2 (out of 10) rating here.
2011 Ford Fiesta
When the 2011 Ford Fiesta arrived stateside (after being sold in Europe since 2008), automotive reviewers hailed it as setting a new benchmark in the small-car class. The Fiesta, available in sedan and five-door hatchback, is fun to drive, has an upscale interior, and gets near hybrid-like fuel economy (up to 40 mpg in Fiesta SE with SFE package). Head room in the front and rear is 39.1 inches in sedan/hatchback. In the rear, the specs are 37.1 inches in the sedan and 37.2 inches in the hatchback. Leg room front/rear in both sedan and hatchback is 42.2 inches/31.2 inches. Testers say that the front is comfortable enough for six-foot-plus drivers, while the back might be tight on leg room for some taller passengers. The 2011 Ford Fiesta starts at $13,210.
2011 Chevrolet Cruze
A compact sedan with the roominess of a mid-size, the all-new five-passenger 2011 Chevrolet Cruze has a lot to offer tall drivers and their passengers. Front head room and leg room is 39.3 inches and 42.3 inches, respectively. In the back seat, head room is 37.9 inches and leg room is 35.4 inches. But it's the combination of comfortable seats, with generous fore/aft seat travel, and standard tilt and telescopic steering wheel that add up to driver comfort. In the back, as long as the front seat isn't pushed too far back, the rear passengers – even if they're six footers – can be comfortable for medium-length trips. The 2011 Chevrolet Cruze has 10 standard airbags, 36 mpg (42 mpg with Eco) highway fuel economy, good-sized trunk, and starts at $16,275. Want to know more? Check out this review in The Car Connection (editors give it an 8.3 overall rating).
2011 Subaru Impreza
With standard symmetrical all-wheel drive (AWD), the 2011 Subaru Impreza four-door sedan and five-door hatchback provide sure-footed driving in areas where the weather turns nasty. Fuel economy is 20 mpg city/27 mpg highway with 170-horsepower 2.5-liter flat-four engine and standard five-speed manual or four-speed automatic transmission. And, with sedan/hatchback head room of 40.3 inches in the front and 37.6 inches in the rear (39.3/37.6 inches in sedan with moon roof and 39.3/37.5 inches in hatchback with moon roof), and leg room of 43.5 inches/33.5 inches (sedan/hatchback), there's good room for six footers – especially in the front. The 2011 Subaru Impreza starts at $17,495.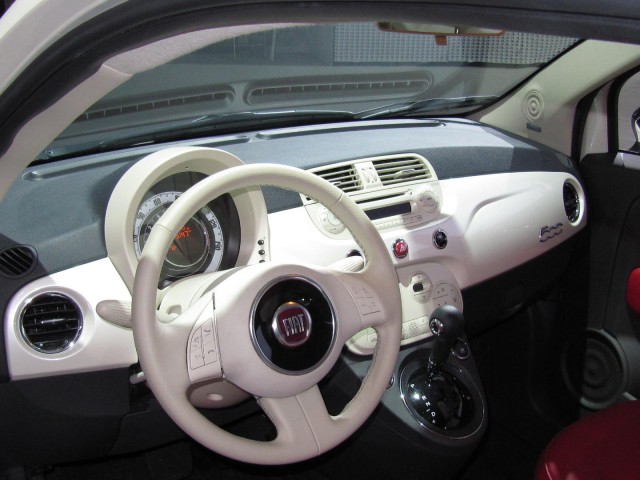 2011 Fiat 500 launch event at the 2010 Los Angeles Auto Show, November 2010
Enlarge Photo
2012 Fiat 500
Some dealers will start receiving their shipments of the 2012 Fiat 500 mid-March, and the good news for drivers six feet and over is that front seat room and comfort is accommodating. But taller rear-seat passengers may not like the cramped space, which is better left to children. With a starting price of $15,500, great handling, cute retro styling, and an estimated highway fuel economy of 38 mpg, the 2012 Fiat 500 may be just the right super-small car for tall drivers in commutes or in-town driving.
Want to stay in-the-know on Family Car Guide news? Sign up for our free newsletter or follow us on Facebook or Twitter.