2011 Honda Fit Sport
Honda Fit: Budget Car
The subcompact hatchback 2011 Honda Fit, now with standard ESC, is super-affordable with a starting base price of $15,100. It also gets EPA-estimated 27 mpg city/33 mpg highway fuel economy, which is excellent for the class. Fit is roomy inside, fun to drive, and boasts numerous innovative storage options. Fit makes sense as a choice for a commuter car or second (or third) family vehicle. In TheCarConnection's overview, editors give the 2011 Honda Fit an 8.0 (out of 10) overall rating.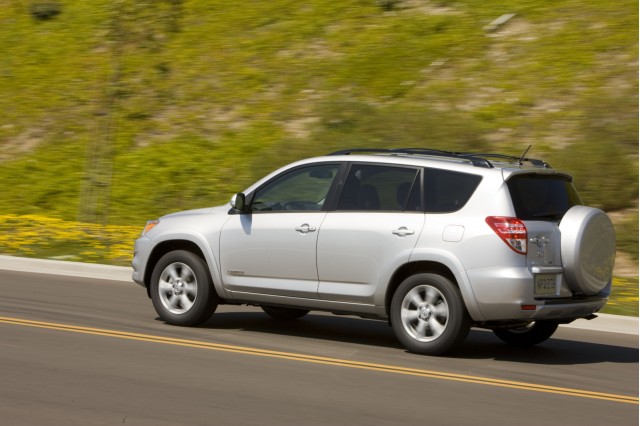 2010 Toyota RAV4
Enlarge Photo
Toyota RAV4: Small SUV
Available in three models, RAV4, Sport, and Limited, the 2011 Toyota RAV4 is an affordable (starting at $22,025) compact SUV that can seat up to seven with optional third-row seat (although usable only by children). Agile handling and good fuel economy (EPA-estimated 22 mpg city/28 mpg highway in four-cylinder version) are other RAV4 strong points. This is the fourth appearance in five years for RAV4 in CR's Top Picks. Bengt Halvorson, in TheCarConnection, says "the 2011 Toyota RAV4 is a modern, practical crossover choice and great for frugal families."
2011 Toyota Prius
Enlarge Photo
Toyota Prius: Green Car
This year's top spot in the Green Car category marks the eighth consecutive year for the Toyota Prius. Despite more hybrids and electrics entering the marketplace, Prius still gets the best fuel economy of any hybrid – 51 mpg city/48 mpg highway. Magazine editors found it roomy, comfortable and versatile and its excellent crash test results clinched the win. For 2011, the Toyota Prius starts at $23,050. See TheCarConnection review of the 2011 Toyota Prius here.