Thomas Friedman, an op-ed columnist at The New York Times, often fancies himself an expert on the auto industry.
He was a huge Toyota fan, lauding the company as the model for the entire industry, and openly contemptuous of pre-bankruptcy General Motors.
He does, however, have interesting ideas about the future of industry in a new century when communication is increasingly instantaneous, broadband, and near-free. Or as he titled one of his books, The World Is Flat.
Add $1 to gas tax
His column this morning recommends raising the gasoline tax a nickel a month for 20 months, starting in January 2012.
He argues that such a tax would serve two aims: It would incentivize car buyers to choose more fuel-efficient vehicles against a backdrop of unrest in the Mideast and uncertainty over future oil prices, and it would all be targeted to pay down the deficit.
Or as he says, "Prices are going up anyway, folks. Let's capture some [of] it for ourselves."
Here, we pause for shrieking denunciations, comparisons of any new tax at any time under any circumstances for any purpose to socialism, totalitarianism, perhaps even matricide.
OK, are we done with that part?
Bill Ford 2006
Strange bedfellows
You might think the auto industry would join the chorus of Tea Partiers, long-commute suburban drivers, and others who viscerally fear more costly gasoline--or simply think it would be bad policy.
You'd be wrong.
Take Ford Motor Co. chairman Bill Ford, for example. Yes, the one whose name is on the building. He's argued for higher gasoline taxes in public, many times. So has Ford CEO Alan Mulally. Other auto industry executives feel the same, though they're often loath to say so publicly.
The best quote comes from Mike Jackson, the always pithy CEO of AutoNation, the largest auto dealer chain in the U.S.: "Cheap gasoline combined with fuel efficiency mandated by the government is an economic disaster for America."
The argument is that rather than mandating fuel-efficiency standards, which are likely to make all vehicles more expensive, making gasoline more expensive would let the free market decide what cars it can afford. And what this long-lead, capital-intensive industry needs is predictability.
Traffic Jam
What hasn't gone up since 1993?
It's also worth noting that the Federal gasoline tax has not been raised since 1993, and it is not indexed to inflation. So that 19.2 cents per gallon has lost half its purchasing power.
Meanwhile, the deficit in the Highway Trust Fund is estimated at $50 billion or more. That's just to return the existing highway network to a state of good repair, not to build any new roads, bridges, tunnels, or other transportation improvements.
And that problem will only worsen as the rise in corporate average fuel economy--to 34.1 mpg by 2016--further reduces gasoline consumption. Which peaked four years ago, by the way, and may never return to the highs of 2006.
Some legislators have suggested in the past that gas taxes go up now with higher CAFE mileage standards, but in the current climate in Washington, that seems ... ummmm ... unlikely.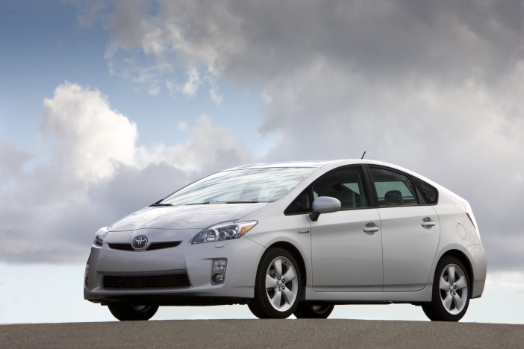 2010 Toyota Prius
Missing the forest
Back to Friedman's piece. Among other things, he says that the tax would "help sell more Chevy Volts." He may not have unerstood that despite off-the-cuff remarks by GM CEO Dan Akerson about doubling Volt production, it's not at all clear that the supply base exists to do so that quickly.
But this is all noise level. In the end, we view discussions of individual taxes in isolation--gas taxes, sin taxes, usage fees, whatever--as irrelevant distractions.
Much of the country, it would seem, has not come to grips with the raw fact that even if we cut every last dollar of "discretionary" spending in the budget, it wouldn't get the United States anywhere near a balanced budget if we don't also cut the Big Three--defense, Social Security, and Medicare--or raise taxes, more likely both.
Trees, meet forest.
+++++++++++