Chrysler created the minivan market in 1983. But despite the current appeal of SUVs and crossovers, the fact is that consumers still buy these all-purpose family vehicles. To put a slightly different take on it, with some stunning new designs, it's quite possible that minivans are making somewhat of a comeback. Case in point: sales numbers for minivans in 2010 are up among the four major players.
Chrysler Town & Country
True to its origins, the Chrysler Town & Country is still the sales leader in the segment, posting sales in 2010 of 112,275 units. That's a 33-percent increase over 84,558 sold in 2009. For 2011, the Chrysler Town & Country is next-generation: sharper exterior design, clever interior features that make sense, options enough to satisfy a boatload of family wants and needs. And the Stow 'N Go one-touch seven-passenger seating remains the king of the hill when it comes to flexibility and access. Another new feature for 2011 is the Stow 'N Place roof rack.  Power comes from an all-new 283-horsepower 3.6-liter V-6 engine that achieves 25 mpg highway fuel economy. Available in three models: Touring, Touring-L and Limited, starting prices ranges from $30,160 to $38,660. See more about the 2011 Chrysler Town & Country here.
2011 Honda Odyssey
Enlarge Photo
Honda Odyssey
Long synonymous with quality and the prestige of the Honda brand, the Odyssey ranks in solid second place with 2010 sales of 108,182. That's an 8.7-percent increase over prior year sales of 100,133. Redesigned for 2011, Honda Odyssey is family-friendly with seating for up to eight, expandable second-row in EX and Touring that can accommodate up to three car seats – or keep a respectable distance between sparring siblings, plus storage options aplenty and entertainment and other convenience features to satisfy almost everyone in the family. And the 248-horsepower 3.5-liter V-6 engine with available six-speed automatic transmission achieves an EPA-estimated 19 mpg city/28 mpg highway – good enough to be class-leading. Base prices for the 2011 Honda Odyssey are $27,800 (base LX) up to $43,250 (Touring Elite). Want more info? Check out The Car Connection review of the 2011 Honda Odyssey.
2011 Dodge Grand Caravan
Enlarge Photo
Dodge Grand Caravan
Not to be outdone, the Dodge version of the Chrysler Town & Country, the Grand Caravan, is nipping on the heels of its sibling. With a 14-percent sales increase in 2010, amounting to 103,232 units versus 90,666 in 2009, the Grand Caravan is definitely on a roll. For 2011, the Dodge Grand Caravan features a new interior with premium soft-touch materials, plus the same all-new 283-horsepower 3.6-liter V-6 engine and Stow 'N Go one-touch seven-passenger seating as the Chrysler Town & Country. In addition, the 2011 Dodge Grand Caravan offers the uConnect system, segment-exclusive dual DVD entertainment and Sirius satellite radio for the ultimate in family minivan luxury.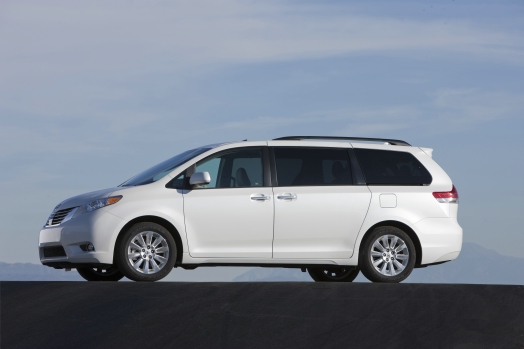 2011 Toyota Sienna
Enlarge Photo
Toyota Sienna
Although the Toyota Sienna comes in at number four on the best-selling minivans in 2010 list, with sales last year of 98,337, the Sienna racked up a 17.7-percent increase over 84,064 units sold in 2009. Like the Honda Odyssey, the 2011 Toyota Sienna is completely redesigned. It's also the only minivan with available all-wheel drive (AWD). Those two facts alone should boost sales considerably for this year. Available in five trims, from the base Sienna starting at $24,560 up to the Limited's $38,800, families can choose fuel-frugal four-cylinder power or opt for the smooth and strong 3.5-liter V-6. Seating for up to eight, excellent (for a minivan) driving dynamics and clever packaging with second- and third-row seats, the 2011 Toyota Sienna is a must-see for families shopping for a comfy, good-looking and fully-capable minivan.
What about some of the other automakers' minivan offerings? Well, they're a far cry from the industry leaders in the segment. Sales of the Volkswagen Routan were up 8.79 percent from 14,681 in 2009 to 15,961 last year. Kia Sedona sold 21,823 in 2010 versus 27,398 in 2009. And Nissan Quest posted just 177 sales in 2010, compared with 8,437 in 2009. But an all-new Quest for 2011 should change that.
Want to stay in-the-know on Family Car Guide news? Sign up for our free newsletter or follow us on Facebook or Twitter.