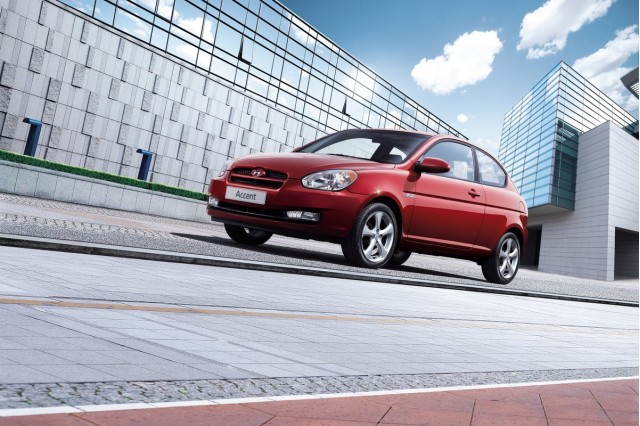 2011 Hyundai Accent
There's a lot of talk these days about the death of brand loyalty -- particularly about Generations X and Y and how they're on the lookout for good deals, not a brand they can wed for life. And while that may be true, that hasn't stopped Hyundai from walking off with top honors in the esteemed Brand Keys Loyalty Index for the second year in a row.
The index -- formally known as the Brand Keys Customer Loyalty Engagement Index -- employs clinical psychology as a tool for market analysis. Using a 50/50 mix of men and women across the U.S., Brand Keys interviews shoppers between the ages of 18 and 65 about their opinions and their habits in the marketplace. The firm then takes that data and uses it to predict future buying trends and profitability for particular companies. (If you're really into survey methodology, have a look-see.)
Brand Keys analyzes a range of sectors, from airlines to wireless phone service, and in the automotive category, Hyundai has come out on top for a second straight year. According to Brand Keys' president, Dr. Robert Passikoff, Hyundai's Assurance Program was what tilted the scales in the company's favor; it was an innovation that made customers happy and secure in buying Hyundai products. He continues:
It comes down to delight. You have consumers who know who you are, know where to get you, know what you do, and they know what they think you're worth. Now the issue is experience and innovation: what it has come down to is 'delight me.'
Rounding out the top ten "delighters":
2. Ford
3. Honda/Nissan (tie)
4. Mercedes/BMW (tie)
5. Kia/GM (tie)
6. Subaru
7. Jeep/Toyota (tie)
8. Mazda/Mitsubishi/Volkswagen (tie)
9. Chrysler
10. Audi/Chevrolet/Volvo (tie)
And curiously, at #11: Saab.
There are some notable absences -- Dodge, for example. Ram. Lincoln. Cadillac. GMC. Suzuki. This wouldn't seem to bode well for their sales, much less customer loyalty over the next few years. But as Dr. Passikoff notes, change is possible: Ford was listed in 12th place just two years ago, so who knows what 2012 may bring? Well, except maybe the end of the world.