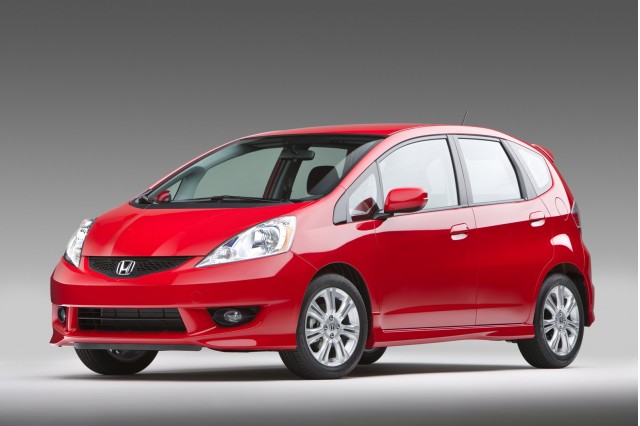 Enlarge Photo
Question: I was on Chevrolet's website and they compare the 2011 Aveo5 LS to the Honda Fit. This Aveo hatchback costs less than the Fit, but which one is a better deal?
Let's cut to the chase: the only reason to choose a Chevy Aveo5 over the Honda Fit is price, and even that reason is questionable. Price is the only significant area that the Aveo5 has the advantage over the classy Honda Fit. In this battle, where a domestic faces off against an import, the Honda Fit can enter the arena with one hand tied behind its back because it won't take much effort for the Fit to come out ahead.
The Numbers Speak
The Manufacturer's Suggested Retail Price (MSRP) for a base model Honda Fit with automatic transmission—not including destination charges—is $15,900. I use an automatic transmission as the basis for comparison because the vast majority of passenger cars sold in the U.S. are automatic. Chevrolet likes to advertise the starting price of its Aveo5 as being ultra-low—and it is. The MSRP of a Chevy Aveo5 LS hatchback with a manual transmission (an automatic transmission is not available on this model) is $12,115. That's a difference of $3,785.
On the surface, a difference of $3,785 is huge, especially for first-time car buyers trying to qualify for a car loan. This is enough to bump a monthly payment on a five year car loan by $75 or more depending on the interest rate the buyer qualifies for.  The price difference will disqualify some first-time car buyers from getting a car loan, sending them home to ask mom or dad to co-sign.
Here's the problem: to compare apples-to-apples we need to move up a model or two in the Aveo5 line-up. The Aveo5 LS is so stripped down I wouldn't wish it on my worst enemy. Not only is air conditioning not included at the MSRP, it's not available at any price on the LS model. Neither is an automatic transmission, ABS brakes, cruise control, or power windows. Question: how many LS models are going to be sold in places like Houston, Texas during the hottest summer months without air conditioning, an automatic transmission, and with only crank windows? Few, if any.
Chevy's Mistake
I have no idea why Chevrolet chose to compare the LS model to the Honda Fit. It's not a fair comparison. To get comparable features to the Honda Fit we need to move up to a 1LT model with an MSRP of $14,250, and even to the 2LT with a price tag of $15,365.
Let's take the 1LT model and add a few features so we get closer to standard features of the base Honda Fit with automatic transmission. We add the following to the 2011 Chevy Aveo5 1LT:
- automatic transmission - $925
- antilock brakes - $440
- power windows - $320
- cruise control - $250
These added features total $1,935, which we add to the 1LT MSRP of $14,250. This gives us a new total price of $16,185 for a comparably-equipped Aveo5 1LT. This compares to the Honda Fit's MSRP of $15,900. And guess what: the Aveo5 is still lacking features, functionality, and above all, safety features like electronic stability control (ESC) and side curtain air bags when compared to the base Honda Fit.
More on the difference is safety equipment tomorrow.