Traveling any great distance by car this winter with kids in tow can be a real challenge. Not only can you find yourself ready to tear your hair out by the time you reach your destination  but your children are often miserable all during the trip. Want to keep the kids happy and not getting on your last nerve? Here are some Family Car Guide tips that may help.
Break out the videogames
Thank God for the invention of handheld videogames and portable devices that plug into your car's USB ports so that your kids of all ages can entertain themselves for hours. While this isn't a blanket recommendation in support of such a use of your children's time, during extended car trips in the winter, it can make a whole lot of sense. For one thing, kids love them. For another, they can be pretty much self-sufficient – as in, you don't have to worry about what they're doing while you navigate the winter roads and highways.
Chances are your family members already have one or more of these devices – and access to plenty of games. If not, check out the after-Christmas sales to buy one at a discount and get ready to rock the kids with the games selection.
Just make sure they're age-appropriate games.
Are we there yet? The case for in-car movies
Families lucky enough to have rear-seat entertainment systems have a built-in venue for playing family-rated movies. What better way to keep the kids engaged than a couple of hours worth of good old-fashioned entertainment via videos you can buy or rent? They don't have to be the latest titles to do the job, either. If your children – even adolescents – have favorites they like to watch over and over, bring them along and pop them into the rear-seat entertainment system.
The 2011 Honda Odyssey has an available 16.2-inch split-screen capable ultra-wide DVD rear entertainment system with HDMI technology. The 2011 Chevrolet Traverse available rear-seat DVD entertainment system keeps rear passengers entertained and includes headphones so the driver can listen to the radio while the kids are amused in the back.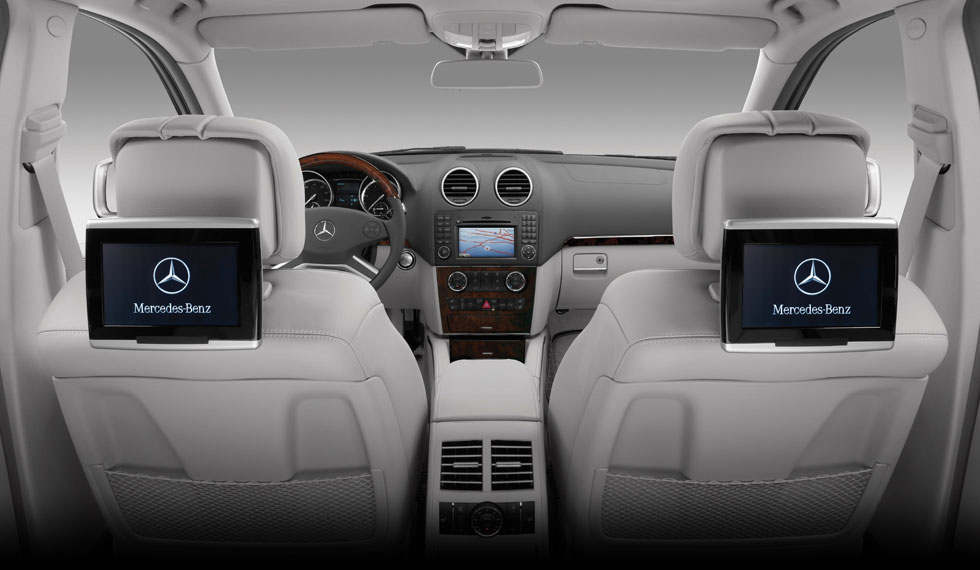 Luxury automaker Mercedes-Benz offers an optional dual-source rear-seat entertainment system that's integrated into the front head restraints on the GL-, R-, and M-Class SUVs.
If the family vehicle isn't so equipped, there are aftermarket rear-seat video systems available that are often a better deal than dealer options. New rear-seat entertainment systems offer high-definition overhead monitors with touch-screen capability and use Internet access via cell-phone connection for access to digital cable programming and more. Add additional external video ports or game ports for another way to provide access to gaming console or camcorder.
Be sure you've got individual headphones so you won't be distracted by the movie or game's audio.
Dress them in layers
Too hot? Too cold? Somewhere in-between? Be prepared for whatever winter throws at you by dressing the kids – and you – in layers. That way everyone can shed or bundle up as required to keep comfortable during the long winter road trip.
It's also wise to keep the car's temperature slightly cool for another reason. After many hours on the road, drivers tend to get much too relaxed behind the wheel. It's a recipe for disaster when you combine all those hours at the wheel, driver fatigue, and car temps too warm that lull you to sleep.