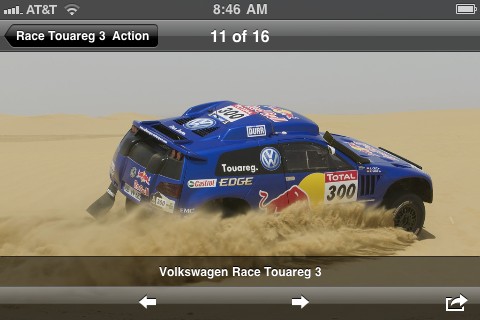 Volkswagen's 2011 Dakar Rally app for iPhone
If you're a rally fan and you've got an iPhone, iPad, or iPod Touch, here's something you ought to download pronto: the 2011 Dakar Rally app from Volkswagen. It's a great way to keep up with the race from Buenos Aires, Argentina to Arica, Chile and back again -- and best of all, it's free.
The app's content is divided into five major sections: news (mostly stories about VW's pre-race activities), live updates from the route, multimedia (photos, video, and audio), technology (meaning the tech behind VW's Touareg 3, which is making the trip), and background VW's involvement in the rally. Each section is chock-full of information to keep users informed, and between updates from the field, there's plenty of history, photos, videos, and more to help pass the time. There's even a handy TV schedule, so users around the globe know where to tune in and watch the race live.
The only complaint we have about the app is that it needs a very good proofreader. Like the Mercedes-Benz "Classic" app we reviewed last week, the text of VW's Dakar Rally app feels as if it were written in German, shoved through Google Translate, and posted without so much as a glance from a native English speaker. Thankfully, the stills and video don't really need translation.
VW's Dakar Rally app is available for download at iTunes. Get it soon, if that's your thing -- the race begins this Saturday, January 1.
[via TorqueNews]