We are finally at the season of giving once again. A time to reflect on the things we wish we had, then again, it can also be a time for thinking about the things you are thankful you don't have.
Funny thing about gifts, most are given with good intentions. Sadly, not all gifts can be a blessing. Take gifting someone a car for example: you have the right intentions by giving someone a car. It is a means of transportation, and you should be thankful someone is kind enough to give you one (if you are so lucky).
Unfortunately not all cars are alike. Some are prone to maintenance issues, while others just have bad stigmas attached to them. It's not usually the persons fault, as most people aren't fully aware of what they are buying. You can always research vehicles on reputable sites like The Car Connection.
This holiday season, we've done some of the homework for you, picking the seven worst cars to give anyone, for any reason.
2008 Saab 9-3 Convertible
We'll start the list with what should be fun in the sun, the Saab 9-3 Cabriolet. Known for transmission problems, it doesn't seem to matter whether you have the automatic or manual transmission, both have issues. The ride is somewhat harsh, and don't even dream about really using that back seat.
Consumer Reports
rates it mediocre in its used car prediction section. Finish it off with knowing that the entire structure flexes. The Saab 9-3 Convertible is essentially a jiggly topless Swedish gift, which is normally a good thing, just not in this case.
Ford Contour SVT
Next up on our tour is the Ford Contour. The sad part about this car is that it handled well. The issue is mainly size-related. The Contour was built for smaller Europeans, meaning we fat Americans didn't fit so well. Reliability was also a key factor in this car making the list. If you researched the "trouble spots" on the Ford Contour, the list would include nearly everything. From the automatic transmission to the engine, nearly all the major components seem to have reported issues. The Contour hasn't been on sale since 2000, so you might not need to worry about this one landing in your driveway this holiday season.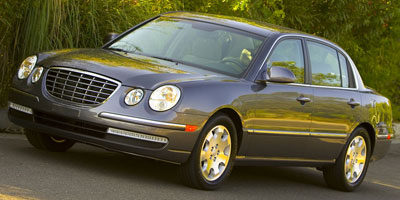 2009 Kia Amanti
The Kia Amanti makes this list for a multitude of reasons. We know what you are thinking: what is a Kia Amanti. That is one of the reasons it makes the list. With a mishmash of styling, the vehicle itself didn't even know what it was or what it wanted to be. Driving the Amanti didn't make matters much better, with a floaty suspension and vague steering, this misguided step-child was not a joy to drive. Did we mention the styling? The only good thing we can say is that if an Amanti finds its way into your driveway, the neighbors will probably have no idea what kind of car it is.
2009 Volkswagen New Beetle
The cute as a bug Volkswagen New Beetle has to make the list. Starting with the lackluster fuel economy which is caused by the unimpressive five-cylinder engine. The interior at this point feels dated, and dare we say, gimmicky. Volkswagen brags about the back seat, but in reality the rear seat headroom is nothing to brag about, and the crash-test results are mediocre at best. The New Beetle is also a terminal chick car, and its looks are so cute it'll make your teeth ache. Lets not forget that plastic vase, do you really want to look at a plastic flower on your dashboard for five years?
2003 Pontiac Sunfire
The Pontiac Sunfire is a sad story in itself. Just like a Chevrolet Cavalier, but worse: it tried to be sporty, but never really hit that mark. Perfect for administrative assistants who wanted to feel sporty. We call this failed pretentiousness. That sporty styling hindered rear visibility and
Consumer Reports
slaps the Sunfire with a poor used car prediction. We think their Magic Eight Ball is onto something.
2002 Land Rover Freelander SE
We would be remiss if the Land Rover Freelander didn't make this list. The Freelander did have decent maneuverability and visibility, though we can't get past the cheap instruments and controls. The Freelander has known steering problems, and the wheels can become hard to remove due to corrosion. Also known as trouble spots are the constant velocity joints, and the shocks/struts. The bottom line, the Freelander could be on this list just for being British.
2010 Chevrolet Aveo
We saved the absolute worst car to give someone, for any reason, for last. That award goes to to the Chevrolet Aveo. The name sends shivers down ones back. Unless you're getting this for your 16-year-old daughter, you're going to get some angry stares for giving a male this terminal girl car. Once in a while you will find a morbidly obese middle-aged bald man behind the wheel. Words to describe these rare beasts could be loud, slow, buzzy, and cheap. All those words would be used on a good day. You would be hard pressed to find a positive review of an Aveo.
Consumer Reports
gives it a "worst" score for nearly all categories, including predicted reliability, and owner satisfaction. Bottom line, the Aveo is such a bad car, they are renaming the replacement the Sonic in hopes people will not associate the two.