Continental's Emergency Steer Assist
If you could check the box for a safety feature that's been shown to dramatically decrease the chances of an accident, you would, right?
That's the case with electronic stability control (ESC); it's been shown to reduce accidents, fatal crashes, and rollovers, and with economies of scale doesn't cost as much as you might think. NHTSA had estimated that its mandate for stability control to be standard by 2012 will cost an average of $111 per vehicle but save nearly 10,000 fatalities annually—along with, potentially, hundreds of thousands of injuries and accidents. Including related components, some automakers have placed the total cost of ESC to be $400 or more.
The idea behind electronic stability control is simple: the brakes are applied individually at one or more of the wheels to help restore a traction and/or a vehicle imbalance in an extreme maneuver—perhaps allowing you to avoid an accident.
But while stability control systems for some SUVs and luxury vehicles are already into their second or third generations of this technology, some of the least expensive models on the market still haven't received the lifesaving technology.
The need is especially dire for small cars because of their weight disadvantage in multiple-vehicle accidents.
According to the Insurance Institute for Highway Safety (IIHS), electronic stability control was standard on 85 percent of all vehicles for the 2010 model year—including 100 percent of SUVs but 88 percent of cars and just 62 percent of pickups.
Automakers have just over the past couple of years moved quickly to get stability control into compact pickups. The 2011 Chevrolet Colorado, 2011 GMC Canyon, and 2011 Ford Ranger all now come with it standard, and larger pickups have all come with it for several model years.
What remains for 2011—aside from a few wildcards like the four-cylinder Nissan Frontier and the Mazda RX-8—is a surprisingly long list of cheap, small cars that still don't get the feature, or don't have it standard.
A number of the smallest, least-expensive cars, including the 2011 Ford Fiesta, 2011 Toyota Yaris, 2011 Scion xB, 2011 Kia Soul and 2011 Mazda2, now include standard stability control, while a class up, vehicles such as the Toyota Corolla, Ford Focus, Kia Forte, Hyundai Elantra, and Mitsubishi Lancer all have it standard.
If price-conscious new-car shopping is on order for you or your family, scroll to the next page to take a look through this list of models that even, for 2011, don't include ESC:
2010 Chevrolet Aveo
2011 Chevrolet Aveo
GM was an early pioneer with ESC, with its excellent StabiliTrak system that made its debut in some Cadillacs 14 years ago. But stability control still isn't at all available on Chevrolet's most affordable car, the 2011 Chevy Aveo. Anti-lock brakes are optional—and only on top trims—and we gave the 2010 Aveo one of our lowest safety ratings for its 'moderate' side-impact and 'poor' rear impact scores from the IIHS, along with three stars in one side-impact category from NHTSA in its former, more generous ratings method. An all-new model is in the works for 2012.
--
2010 Dodge Caliber R/T
2011 Dodge Caliber
Chrysler has been revamping its Chrysler, Dodge, and Jeep models, and restructuring trims and standard equipment. Unfortunately, stability control isn't included in the base 2011 Dodge Caliber Express, which costs $17,630, including destination. You have to step up to the $18,990 Caliber Mainstreet for that.
2010 Honda Civic Sedan
2011 Honda Civic
We've criticized Honda for only bundling some most-wanted—and some would say necessary, given state laws—Bluetooth connectivity features on top trims of its vehicles. Well, for the Civic, that applies to electronic stability control, too. To get ESC on a Civic Coupe or Sedan, you need to step all the way up to a 2011 Honda Civic EX-L, costing around $22k. Although Honda hasn't yet released pricing and details on the 2011 Honda Fit, for the 2010 Fit you also had to get the top-of-the-line Fit Sport, specially optioned with Honda's VSA.
--
2010 Hyundai Accent
2011 Hyundai Accent
While Hyundai has earned heaps of good words from us for most of its current product line, the 2011 Accent is perhaps the strongest exception. In the current market, it's just a small, cheap car—the lowest-priced on the market, at $9,985 before destination, but one that skimps on safety. Anti-lock brakes, the foundation for electronic stability control, are only offered on top Accent SE hatchback trims (or part of a $1,050 option package on the Accent sedan. Look for an all-new Accent next year—likely with standard stability control.
2010 Kia Rio
2011 Kia Rio
There's no electronic stability control offered on the 2011 Kia Rio, whatsoever. And even if you love the Rio, and it seems like an amazingly great deal on the dealer lot, hold on; we'd suggest if you're concerned about safety you'd be well served to wait for next year's all-new model.
--
2010 Nissan Versa
2011 Nissan Versa
At just $9,990 not counting destination, the Versa 1.6 Base is nearly tied for the lowest-priced regular passenger car on sale in the U.S. market. And considering every penny counted to get the price down below the $10k mark, there's no air conditioning; no power anything; no radio, even. Electronic stability control isn't even on the options list. However the Versa can be quite well equipped, and if you go for one of the top Versa SL models, and you can only get it with an automatic transmission.
2010 Suzuki SX4 Sport Sedan
2011 Suzuki SX4
Most of the Suzuki SX4 lineup includes electronic stability control; but if you're considering the SX4 sedan, or the SX4 Sport sedan, beware that it might not include the feature. In the SX4 Sport sedan lineup, you need to go for the $19,644 (including destination) Sport GTS, and at that point in our opinion you might as well spend exactly a hundred dollars more and get a base 2011 Suzuki Kizashi, which includes the feature.
--
2010 Nissan Frontier
2011 Nissan Frontier
While all of its rivals like the Ford Ranger, Chevrolet Colorado, and Toyota Tacoma now include electronic stability control, it's still not included in all 2011 Nissan Frontier models. Go for the base four-cylinder engine and, quite simply, you can't get it. Base Frontiers come with no anti-lock brakes either.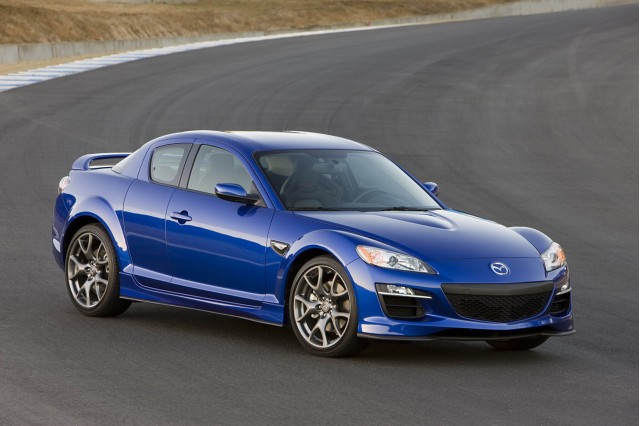 2010 Mazda RX-8
2011 Mazda RX-8
It's a little surprising that, at $27,590, the base 2011 Mazda RX-8 Sport doesn't include electronic stability control. But in part, these true sports cars are bought as serious track-day devices, so perhaps that's the line of thinking. Step up to the RX-8 Grand Touring or R3 models, and you'll get stability control.